Tag: Telangana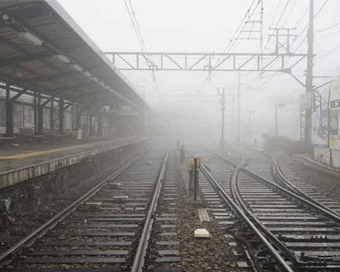 21 Trains Delayed, Seven Cancelled Due To Fog
At least 21 trains were running late and seven cancelled due to dense fog in parts of north India on Tuesday morning, a railway official said.....
Telangana To Pressurise Centre For 12 Percent Muslim Quota
Telangana will soon bring in a legislation to provide 12 percent reservations to Muslims and bring pressure on the Union Government to include the law in Constitution's 9th schedule as was done in case of Tamil Nadu, said Chief Minister K. Chandrasekhar Rao on Wednesday.....
Telangana CM Fulfils Rs 5 Crore Vow At Tirumala Temple
Telangana Chief Minister K. Chandrasekhar Rao on Wednesday offered gold ornaments worth Rs 5 crore to Lord Venkateswara, fulfilling a vow he had taken during the movement for a separate state.....
Do We Belong Here? Sunayana Dumala Asked To US Government
The wife of slain Indian engineer Srinivas Kuchibhotla has publicly sought answers to what she perceived was a spread in American hate crimes as mourners held a vigil at a local church for the victims of the bar shooting in which her husband died.....
BJP MLAs Suspended From Telangana Assembly Over Muslim Quota Bill
All five members of the BJP on Sunday were suspended from the Telangana legislative assembly as they tried to stall the proceedings to protest the bill for raising the reservation quota for Muslims in the state. ....
Ram Nath Kovind Begins Campaign In Telugu States
The campaign for Presidential election began and NDA presidential candidate Ram Nath Kovind visited Telugu states of Telangana and Andhra Pradesh.....
Maoists Go On Rampage In Telangana, 1 Killed
Maoists went on rampage in Telangana's Bhadradri Kothagudem district early Saturday, killing one and injuring another former guerrilla member, whom they suspected of being police informers.....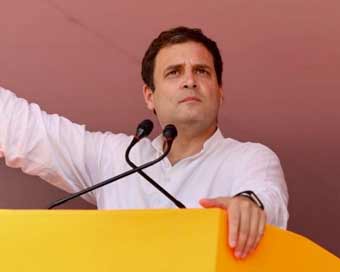 Rahul Targets KCR Over Corruption, Assures Farm Loan Waiver
Accusing Chief Minister K. Chandrasekhar Rao (KCR) of enriching his family at the cost of Telangana, Congress President Rahul Gandhi on Thursday promised farm loan waiver and employment for youths if the Congress-led Peoples Front won the Assembly elections.....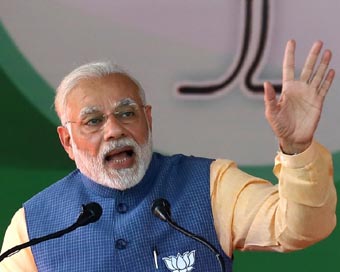 Modi Terms Minority Reservation Act Of Treason
Prime Minister Narendra Modi on Monday said attempts to provide reservation to minorities are betrayal with the nation and an insult to the framers of the Indian Constitution.....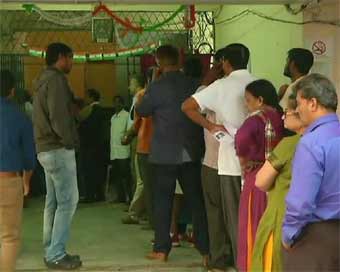 Over 10% Polling In Telangana By 10 A.m.
Over 10 per cent polling was recorded by 10 a.m. in Telangana Assembly elections on Friday, official said.....