Tag: Sudip Bandyopadhyay
Mamata Flays Trinamool Leader's Arrest, BJP Office Attacked
West Bengal Chief Minister Mamata Banerjee on Tuesday dubbed the arrest of Trinamool Congress MP Sudip Bandyopadhyay as "vendetta politics" by the Centre as her supporters attacked the BJP office here, leaving some 15 people injured.....
Sudip Bandyopadhyay Admitted To Odisha Jail Hospital
Trinamool Congress (TMC) MP Sudip Bandyopadhyay was admitted to a jail hospital in Odisha following a court order, said an official on Friday.....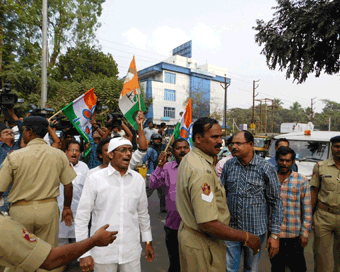 Political Storm Continues Over Bandyopadhyay's Arrest, TMC MPs Stage Protest
The political storm after the arrest of Trinamool Congress MP Sudip Bandyopadhyay continued on Thursday as party MPs staged a protest march here to the Prime Minister's Office (PMO) but were detained on their way.....
TMC Protests Against Modi's 'vendetta Politics'
Trinamool Congress MP on Friday protested against the Narendra Modi government in the Parliament House complex on Friday, alleging that it was indulging in "vendetta politics" in a probe into a chit fund scam.....
Trinamool Leaders Express Solidarity With Arrested Party MP
Trinamool Congress MPs and state ministers on Tuesday visited the CBI regional office here to express "solidarity" with the arrested MP and party's leader in the Lok Sabha Sudip Bandyopadhyay.....
Sudip's Arrest Political Vendetta, Says Wife
Nayna Bandyopadhyay, wife of arrested Trinamool Congress MP Sudip Bandyopadhyay, on Thursday said political vendetta is the reason for the arrest of her husband. ....
Trinamool To Skip Parliament On Budget Day
The Trinamool Congress on Monday hardened its stance against the central government by announcing that its members will not attend Parliament on Wednesday when the 2017-18 Budget will be presented.....
Showing 1 to 7 of 7 (1 Pages)