Tag: Rajya Sabha
Rajya Sabha Polls: Amit Shah, Smriti Irani To File Nomination Today
BJP president Amit Shah and Union Information and Broadcasting Minister Smriti Irani will file their nominations for Rajya Sabha elections from Gujarat on Friday.The Parliamentary board of the BJP on Wednesday announced that Amit Shah and Smriti Irani will contest for Rajya Sabha elections from Gujarat. ....
Amit Shah Takes Serioud Note Of BJP Members Absence In Rajya Sabha
BJP President Amit Shah has taken a serious view of the absence of party members from the Rajya Sabha despite a whip and the absentee MPs are likely to be asked for an explanation. ....
Ahmed Scrounges For Every Vote To Save Rajya Sabha Seat
Facing the toughest electoral battle of his career, Congress chief Sonia Gandhi's political secretary Ahmed Patel scrounged for every vote as polling for three Rajya Sabha seats in Gujarat progressed on Tuesday. BJP President Amit Shah and union minister Smriti Irani appeared set for an easy win.....
JDU RS Member From Kerala Wants To Break With Nitish Kumar Faction
Senior Janata Dal-United leader and Rajya Sabha member M.P. Veerendra Kumar on Wednesday said he will not continue as member of Bihar Chief Minister Nitish Kumar's faction.....
Gujarat Records 68% Voting In First Phase, Expected To Cross 70%: EC
Over 70 per cent voting was registered in Gujarat at close of polling at 5 p.m. in the first phase, though there were still long queues lined up to vote at most polling stations, Chief Electoral Officer (CEO), Gujarat, B.B. Swain said on Saturday.....
Tendulkar Fails To Make Maiden Speech Amid Uproar
Cricket maestro Sachin Tendulkar on Thursday could not make his maiden speech in the Rajya Sabha amid uproar by Congress members over Prime Minister Narendra Modi's remarks against his predecessor Manmohan Singh and over the 2G spectrum case. ....
Rajya Sabha Impasse Ends Over Narendra Modi Remarks
The week-long impasse in the Rajya Sabha over Narendra Modi's attack against his predecessor Manmohan Singh during the Gujarat polls ended on Wednesday with the government making a climbdown saying the Prime Minister did not question Singh's commitment to the nation. ....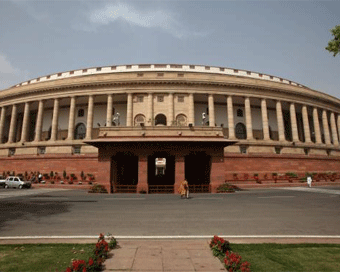 Government Tables Triple Talaq Bill In Rajya Sabha Amid Uproar
The government on Wednesday tabled the triple talaq bill in the Rajya Sabha amid uproar, with the Congress and other opposition parties demanding that it be reffered to a parliamentary panel for detailed consideration.....
Congress Doing Injustice To Muslim Women: Ananth Kumar
Parliamentary Affairs Ministers Ananth Kumar on Friday accused the Congress of doing injustice to the Muslim women by opposing the Triple Talaq Bill saying that they should learn from the past and let the legislation pass.....
President Nod To 20 AAP Lawmakers' Disqualification, Party To Move Court
In a big blow to Delhi's ruling AAP, President Ram Nath Kovind on Sunday approved the Election Commission's recommendation to disqualify 20 of its MLAs in the office of profit case. While the BJP hailed the move, the AAP said it would approach the courts against it.....
Samay
Tweets by @sahara_samay