Tag: Rajya Sabha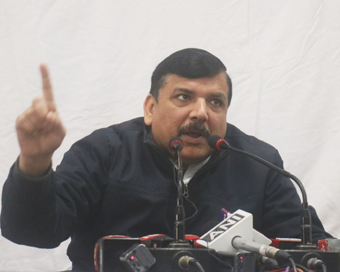 AAP Accuses Central Govt For Delhi Riots
Aam Aadmi Party (AAP) member of the Rajya Sabha Sanjay Singh here on Thursday accused the central government for Delhi riots, saying it was "conspired and carried out in a well planned manner". "This is my direct allegation," he said.....
Rajya Sabha Adjourned For The Day After Obituary References
The Rajya Sabha was adjourned for the day on Thursday after paying homage to five of its members, one of them sitting, who have passed away.....
Shivpal Yadav Not In SP's List Of Star Campaigners
Former Samajwadi Party (SP) state president Shivpal Singh Yadav does not figure in the list of 40 'star campaigners' issued by the party for the first phase of the Uttar Pradesh state assembly elections.....
Trinamool Walks Out Of RS, Alleges Political Vendetta
Trinamool Congress members walked out of the Rajya Sabha on Thursday, alleging that the central government was indulging in "politics of vendetta".....
TMC Protests Against Modi's 'vendetta Politics'
Trinamool Congress MP on Friday protested against the Narendra Modi government in the Parliament House complex on Friday, alleging that it was indulging in "vendetta politics" in a probe into a chit fund scam.....
Unemployment Rate Is Rising, Says Government
The opposition's allegations aside, the rate of unemployment is actually rising in the country, especially among the backward classes, the government admitted in the Rajya Sabha on Monday.....
War On Corruption Not A Political Fight : Narendra Modi
Prime Minister Narendra Modi on Wednesday said his governments war against corruption and black money was not a political fight and said it was meant to empower honest people.....
AIADMK MP Says Sasikala Has Threatened Governor, Demands Action
AIADMK Rajya Sabha MP V. Maitreyan on Saturday urged the President and the central government to take "severe action" against party General Secretary V.K. Sasikala for her "threatening" statement against the state Governor. ....
Now, Bharti And Naqvi Say BJP Should Have Fielded Muslims In UP Polls
Union Ministers Uma Bharti and Mukhtar Abbas Naqvi on Monday echoed Home Minister Rajnath Singh's stand on the BJP fielding Muslim candidates in the ongoing Uttar Pradesh assembly elections. ....
Lok Sabha Passes Amended Enemy Property Bill
The Lok Sabha on Tuesday passed a bill to amend a 49-year-old law to guard against claims of succession or transfer by heirs of property left behind by those who migrated to Pakistan and China.....
Samay
Tweets by @sahara_samay