Tag: Rajya Sabha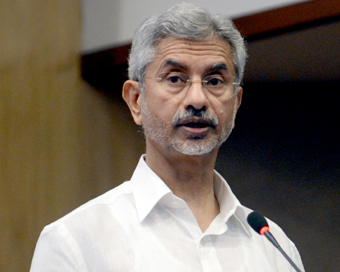 Jaishankar Joins BJP, Nominated To Contest RS Seat From Gujarat
External Affairs Minister S. Jaishankar, who was nominated to contest from a Rajya Sabha seat in Gujarat hours after he joined the BJP on Monday, landed in Ahmedabad in the evening to file his nomination on Tuesday.....
Court Summons Former Rajya Sabha MP In LTC Case
A court here has issued summons to former Rajya Sabha member Mahmood A. Madani for alleged irregularities in a Leave Travel Concession case. ....
Delhi Court To Hear Swamy's Complaint On February 9
A court here on Friday adjourned to February 9 the hearing on a complaint against Tata Sons interim Chairman Ratan Tata, lobbyist Niira Radia, former Telecom Minister A. Raja and senior Unitech officials in a 2G spectrum licence case.....
Rs 16,200 Cr Undisclosed Foreign Income Detected : Jaitley
A total of Rs 16,200 crore in undisclosed foreign income of Indians has been detected under the HSBC and International Consortium of Investigative Journalists (ICIJ) lists, Finance Minister Arun Jaitley said on Tuesday. ....
Rajya Sabha Adjourned Till 2 P.m.
The Rajya Sabha was adjourned till 2 p.m., for a second time on Thursday. ....
Former AIADMK Minister Ponnaiyan Join Hands With Panneerselvam
Former Minister and AIADMK spokesperson C. Ponnaiyan on Saturday joined the group of old timers to join acting Chief Minister O. Panneerselvam's camp - in another jolt to party General Secretary V.K. Sasikala.....
Court Summons Kejriwal In Defamation Case
A court here on Monday issued summons to Delhi Chief Minister Arvind Kejriwal on a defamation petition filed by Rajya Sabha MP and Essel Group Chairman Subhash Chandra.....
Kanimozhi Taken Into Custody During Protest
DMK leader and Rajya Sabha member Kanimozhi was taken into custody by police on Monday here as she led a protest against the non-availability of essential commodities at ration shops.....
Rajya Sabha Repeatedly Disrupted Over Goa, Manipur
The Rajya Sabha on Wednesday witnessed multiple adjournments amid chaos over the Congress' allegations that the BJP "murdered democracy" by not honouring the people's mandate in Goa and Manipur assembly elections. ....
Ruckus In Rajya Sabha Over Goa Governor
Rajya Sabha, Digvijay Singh, Manohar Parrikar, Goa assembly polls, Congress, Panjim, chief Minister, Manohar Parrikar, Ruckus in Rajya Sabha, over Goa Governor, rajya Sabha disrupted, Congress members, During Zero Hour, role of Goa Governor, Mridula Sinha, Finance Minister, Arun Jaitley, formation of new BJP government, digvijay Singh, latest news, news in english, Top news in english, english top news, saharasamay news,....