Tag: Rahul Gandhi
Modi Is Corruption, Hope BJP Learnt Lessons From Karnataka: Rahul
In a blistering attack on Prime Minister Narendra Modi following the resignation of Karnataka Chief Minister B.S. Yeddyurappa ahead of the trust vote, Congress President Rahul Gandhi on Saturday termed him "corruption" and that Modi, BJP chief Amit Shah and the RSS considered no institution "worthy of respect".....
Kumaraswamy Meets Sonia, Rahul, Discusses Government Formation
JD-S leader and Karnataka Chief Minister-designate H.D. Kumaraswamy on Monday met Congress President Rahul Gandhi and UPA Chairperson Sonia Gandhi to discuss ministerial berth sharing between the coalition partners ahead of his swearing-in ceremony on Wednesday.....
Rahul Gandhi Challenges PM Modi To Cut Fuel Prices
Taking a cue from the fitness challenge gone viral on Twitter, Congress President Rahul Gandhi on Thursday dared Prime Minister Narendra Modi to bring down petrol and diesel prices or face country-wide agitation.....
Smriti Irani Takes Dig At Rahul Gandhi's PM Wish After 2019 Polls
Union Textiles Minister Smriti Irani on Tuesday pooh-poohed Congress President Rahul Gandhi's statement that he was ready to be the Prime Minister in case the Congress emerged as the single largest party after the 2019 general elections.....
Will Waive Farm Loans Within 10 Days In MP: Rahul Gandhi
Congress President Rahul Gandhi on Wednesday said if his party is voted to power in Madhya Pradesh, it would waive farmers' loans in 10 days.....
Former Goa Congress Chief Shantaram Naik Dead At 76
Former Goa Congress President and two-time Rajya Sabha MP, Shantaram Naik, died of a massive heart attack on Saturday, a party leader said. He was 76.....
Former Prime Minister Atal Bihari Vajpayee Admitted To AIIMS, Condition Stable
Former Prime Minister Atal Bihari Vajpayee was admitted to the All India Institute of Medical Sciences (AIIMS) on Monday for "examination and management" triggering VIP visits including that of Prime Minister Narendra Modi, BJP President Amit Shah and Congress President Rahul Gandhi.....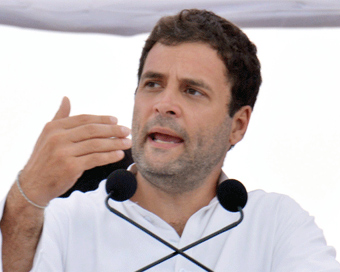 Rahul Urges Modi To Support Women's Reservation Bill
Congress President Rahul Gandhi on Monday wrote to Prime Minister Narendra Modi to seek his support for the passage of the Womens Reservation Bill in Parliament's monsoon session, claiming that the BJP appears to have had second thoughts on the proposed law even though it was a key promise in its 2014 manifesto.....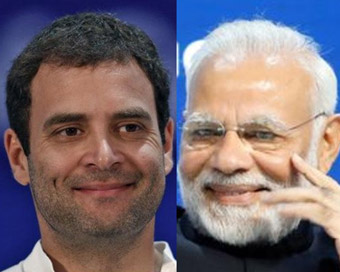 Modi Voices Confidence Over Winning 2019 Polls; Calls Rahul Childish
Prime Minister Narendra Modi on Friday strongly hit out at Congress President Rahul Gandhi accusing him of arrogance, negativity, childish conduct and a burning desire to become PM. ....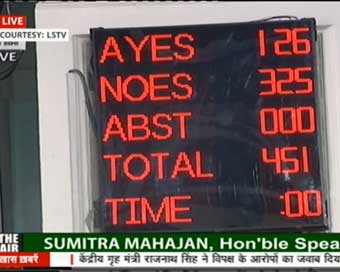 Modi Government Passes No-trust Test Comfortably
The Narendra Modi government on Friday passed the no-confidence motion moved by the oppostion with an overwhelming majority with the government getting 325 out of a total 451 votes. Only 126 MPs voted in favour of the motion.....