Tag: Rahul Gandhi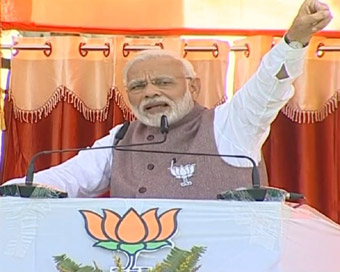 Modi Mocks Congress' Pledge To Protect Cows In MP
Prime Minister Narendra Modi on Sunday hit out at the congress for their pledge to protect cows in Madhya Pradesh, reminding the party that its workers in Kerala last year slaughtered a calf in the open.....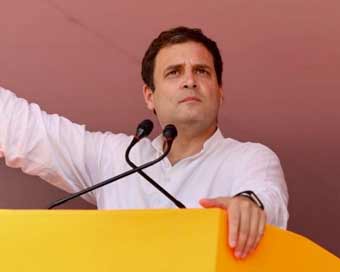 Rahul Targets KCR Over Corruption, Assures Farm Loan Waiver
Accusing Chief Minister K. Chandrasekhar Rao (KCR) of enriching his family at the cost of Telangana, Congress President Rahul Gandhi on Thursday promised farm loan waiver and employment for youths if the Congress-led Peoples Front won the Assembly elections.....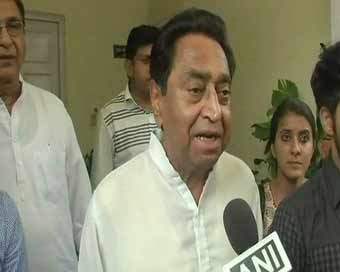 Kamal Nath To Be Sworn-in On Dec 17
Madhya Pradesh Chief Minister-designate Kamal Nath will be sworn-in at a ceremony here on December 17, said the 72-year-old veteran Congress leader, himself, outside the Raj Bhavan here as he came out after meeting Governor Anandiben Patel. ....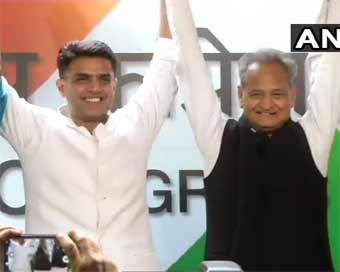 Gehlot CM Picked In Rajasthan, Pilot To Be His Deputy
Veteran Congress leader Ashok Gehlot was on Friday picked as Congress choice for Chief Minister of Rajasthan and his rival in the race Sachin Pilot could be the Deputy Chief Minister.....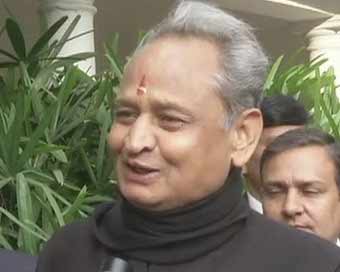 Ashok Gehlot Sworn In As Rajasthan CM, Pilot Deputy CM
Congress leader Gehlot was sworn in on Monday as the 12th Chief Minister of Rajasthan, while the party's state president Sachin Pilot took oath as his deputy at a ceremony here. ....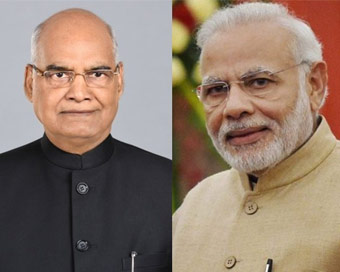 President Kovind, PM Modi Greet Nation On New Year
President Ram Nath Kovind and Prime Minister Narendra Modi on Tuesday extended their greetings to the people on the occasion of New Year 2019.....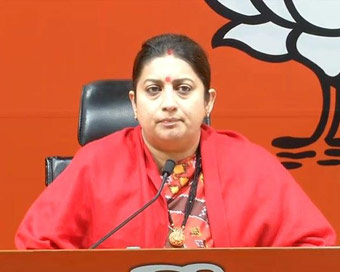 Irani Slams Rahul Of Spreading "more Lies" On Rafale, Raises Vadra's PA Issue
Amid rancorous politics on Rafale fighter jet issue, Union Minister Smriti Irani took a dig at Rahul Gandhi accusing him of telling "more lies" on the matter after he called Defence Minister Nirmala Sitharama a "liar", and alleged that Gandhi's brother-in-law Robert Vadra had a plush 1.9 million pound house in London, which is under the scanner of Enforcement Directorate.....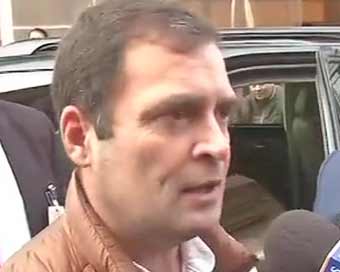 Buoyed By Verma's Reinstatement, Congress Targets Modi Over Rafale
The Congress on Tuesday launched a frontal attack on Prime Minister Narendra Modi over the Rafale deal after the Supreme Court reinstated Alok Verma as the CBI Director.....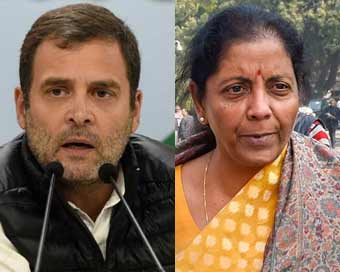 NCW Seeks Explanation From Rahul Over Remarks On Sitharaman
The National Commission for Women (NCW) on Thursday sought an explanation from Congress President Rahul Gandhi for his "extremely misogynistic" remarks against Defence Minister Nirmala Sitharaman.....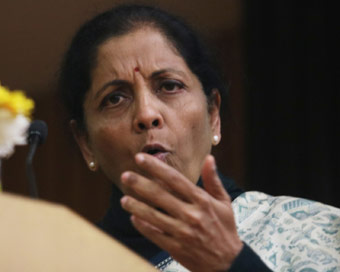 Sitharaman Slams 'attempts To Sabotage, Stop' Rafale Deal
Asserting that Rafale fighter jet is integral to the country's strategic interests, Defence Minister Nirmala Sitharaman on Saturday slammed attempts to "sabotage" and "stop the deal" for acquiring 36 fighter aircraft in a ready-to-fly condition.....