Tag: RJD chief Lalu Prasad
Hundreds Of Thousands Join Human Chain In Bihar
Hundreds of thousands of people across Bihar on Saturday, including men, women and children, formed a human chain in support of the state government's prohibition policy.....
CBI Raids Premises Of Lalu Yadav And Family In Hotel Tender Case
The CBI on Friday raided the premises of RJD chief Lalu Prasad Yadav and his family in connection with the irregularities in tenders allotted to a private company for development, maintenance and operation of IRCTC hotels.....
Nitish Has Not Asked For Tejaswi Resignation,' Says Lalu
The political situation in Bihar is grim amid number of speculations are being made about Deputy CM Tejasvi Yadav resignation. It was reported in the media circle that Chief Minister Nitish Kumar may take action against his deputy before the commencement of next Assembly session. ....
Lalu Demands Rollback Of Note Ban, GST
RJD chief Lalu Prasad on Sunday demanded an immediate rollback of demonetisation and GST "for the sake of the people".....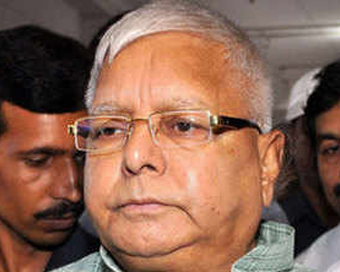 Lalu Yadav Gets Bail In Fodder Scam Case
The Jharkhand High Court on Friday gave bail to RJD chief Lalu Prasad in a fodder scam case related to fraudulent withdrawal of funds from the Deoghar treasury. However, he will remain in jail in two other cases related to the scam.....
Lalu, Son To Campaign For Akhilesh
RJD chief Lalu Prasad on Tuesday said he and his son and Bihar Deputy Chief Minister Tejaswi Yadav will campaign for Uttar Pradesh Chief Minister Akhilesh Yadav in the assembly elections.....
Lalu Taunts Modi Over 'adopted Son' Remark
RJD chief Lalu Prasad on Friday attacked Prime Minister Narendra Modi by saying that if he is the adopted son of Uttar Pradesh, he should reveal who is his father.....
Exit Polls Will Again Prove Wrong; SP-Congress Will Win: Lalu
Trashing exit poll projections on likely winners of assembly elections in Uttar Pradesh, RJD chief Lalu Prasad on Friday said the Samajwadi Party-Congress alliance will form the next government in the state.....
Modi Misusing Power To Campaign For BJP: Lalu
RJD chief Lalu Prasad on Sunday targeted Prime Minister Narendra Modi for misusing his official power to campaign for the Bharatiya Janata Party.....
Lalu Cries Political Conspiracy After Shifted Out From AIIMS
Convicted RJD chief Lalu Prasad was on Monday shifted to a Ranchi hospital for follow-up treatment -- after he met Congress chief Rahul Gandhi at AIIMS where he was undergoing treatment for heart and kidney related ailments.....