Tag: Punjab
Good, Bad, Ugly: Health Of 5 States Going To Polls
While healthcare has largely been a neglected issue in past general elections, major parties started talking about health in their manifestos from 2004.....
Rahul Slams Modi For Aligning With 'corrupt' SAD, Names Amarinder As CM Face
Congress Vice President Rahul Gandhi on Friday slammed Prime Minister Narendra Modi for claiming to fight corruption, while aligning with the "corrupt" Shiromani Akali Dal regime in Punjab.....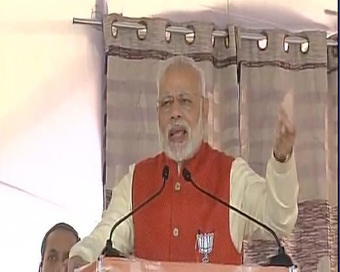 Congress A Sinking Ship, Is History, Says Modi
Dubbing the Congress as a "sinking ship" and "history", Prime Minister Narendra Modi on Friday called upon voters not to vote for the opposition party in the coming assembly elections in five states.....
The Great Circus Of Election Begins
Some are playing musical chairs, some are behaving like jumping jacks and a few are ending up as jokers as well in this circus of great election-entertainments.....
Modi Invokes Pakistan Threat To Seek Votes For Akali-BJP Alliance
Prime Minister Narendra Modi on Sunday invoked threats from Pakistan to urge people to vote for the Akali Dal-BJP alliance in Punjab to provide a strong government in the border state. ....
Three Killed In Car Blast In Punjab Ahead Of Polls
Days before polling in the Punjab assembly elections, at least three persons were killed in a powerful blast in a car close to a rally of a Congress candidate near the state's Bathinda city on Tuesday evening, police said.....
Punjab Campaigning Ends; Voting On February 4
A high-voltage and somewhat no-holds-barred campaign for the February 4 Punjab assembly elections ended on Thursday evening as leaders and workers of major political parties made last-ditch efforts to woo voters in the state.....
Punjab Records 66 Per Cent Turnout, Voting Remains Peaceful
Over 66 per cent of Punjab's electorate had exercised their franchise till 5 p.m. on Saturday as polling for the state assembly officially ended, election officials said. Voting remained peaceful, barring stray incidents of minor clashes and arguments. ....
Maharashtra Congress Demands Farm Loans Waiver
The Congress' Maharashtra unit on Saturday demanded a waiver of all farm loans on the lines of the assurance given by the BJP in poll-bound Punjab and Uttar Pradesh.....
Malfunctioning Voting Machines A Mischief, Asks Kejriwal
Delhi Chief Minister Arvind Kejriwal on Sunday attacked the poll panel over malfunctioning of Electronic Voting Machines (EVMs) in Punjab, wondering if it was a "mischief".....