Tag: Priyanka Gandhi Vadra
Hoardings Of Priyanka-Dimple Fuel Alliance Speculation
The Akhilesh Yadav faction of the Samajwadi Party seems to be inching closer to sealing a deal with the Congress, even as the Election Commission is yet to decide on the fate of the SP and its symbol cycle.....
Priyanka Negotiated Deal With SP, Says Congress
In what could be seen as an announcement of Priyanka Gandhi's arrival, several senior Congress leaders on Sunday acknowledged the role of Priyanka Gandhi Vadra in striking an alliance with the Samajwadi Party (SP) in Uttar Pradesh.....
Priyanka To Campaign With Rahul In Rae Bareli Today
After weeks of dilly-dallying, postponements and cancellations, Priyanka Gandhi Vadra is set to campaign for the Congress in the ongoing Uttar Pradesh state assembly elections on Friday.....
UP Doesn't Need An Adopted Son: Priyanka Slams Modi
Congress President Sonia Gandhi's daughter Priyanka Gandhi Vadra on Friday launched a scathing attack on Prime Minister Narendra Modi saying Uttar Pradesh "doesn't need an adopted son" to work for its development, and people should not vote for "one who makes false promises".....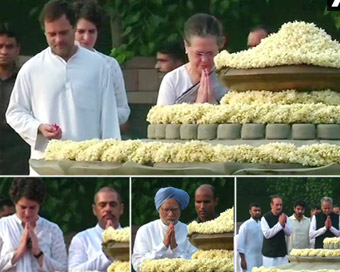 Rajiv Gandhi Remembered On His 74th Birth Anniversary
Congress President Rahul Gandhi along with his mother and UPA chairperson Sonia Gandhi paid homage to his father and former Prime Minister Rajiv Gandhi on his 74th birth anniversary on Monday.....
Huge Support For Priyanka To Play Larger Role: Congress
Having played a key role in sealing a deal with Samajwadi Party in Uttar Pradesh, Priyanka Gandhi Vadra will play a significant role in campaigning during the assembly elections in the state, hinting at a larger role for herself in the party.....
Katiyar Has Exposed BJP's Mindest: Priyanka
Congress President Sonia Gandhi's daughter Priyanka Gandhi Vadra on Wednesday said BJP MP Vinay Katiyar has "exposed the mindset" of his party with his alleged sexist remarks against her.....
First Time Priyanka To Campaign Outside Amethi,Rae Bareli
Priyanka Gandhi Vadra, daughter of Congress president Sonia Gandhi, will be campaigning for party candidates in Uttar Pradesh for the state assembly elections. Her name figured in the list of 40 star campaigners released by the Congress on Tuesday. ....
We Have Prettier Star Campaigners Than Priyanka: BJP's Vinay Katiyar
BJP MP Vinay Katiyar on Wednesday courted controversy saying there were "prettier star campaigners" in his party than Congress Priyanka Gandhi Vadra.....
Priyanka An Asset To Party: Rahul
Congress Vice President Rahul Gandhi on Sunday that his sister Priyanka Gandhi Vadra was an asset to the party.....