Tag: Prime Minister
Jairam Thakur Emerges As Key Face For Himachal CM Post
BJP MLA Jairam Thakur is emerging as the "key" face in the race for picking a chief ministerial candidate in Himachal Pradesh, with the party expected to take a final call after a meeting of the newly-elected MLAs with the central observers.....
Rahul Chairs First CWC Meeting As Party Chief
Rahul Gandhi on Friday chaired the Congress Working Committee (CWC) meeting for the first time as Congress President with party leaders expected to discuss the current political issues, including the verdict in the 2G spectrum case in which all the accused have been acquitted.....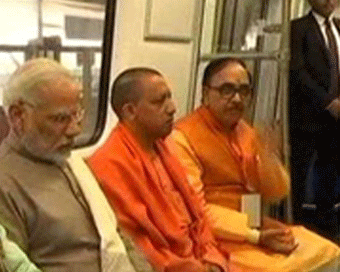 Noida Is Not Jinxed, Says Modi, Praises Adityanath For 'rising Above Superstition'
The satellite town of Noida is not jinxed, Prime Minister Narendra Modi said, rubbishing the "superstition" that Uttar Pradesh Chief Ministers have lost their seat whenever they visited the urban hub close to Delhi and praised Yogi Adityanath for "rising above" it.....
Cabinet Approves 100% FDI In Retail, Construction
In major changes liberalising foreign direct investment in key sectors, the Union Cabinet on Wednesday approved 100 per cent foreign investment in single brand retail trading (SBRT) and construction development and decided to open up Air India for FDI up to 49 per cent.....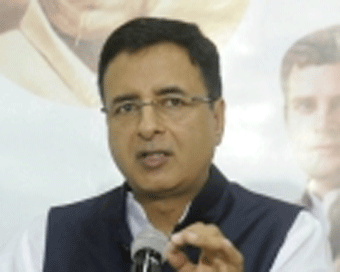 Congress Questions Modi For Sending His Principal Secretary To CJI
Congress on Saturday asked Prime Minister Narendra Modi why he sent his Principal Secretary Nripendra Misra to Chief Justice Dipak Misra's residence here a day after four senior judges told the media that all was not well with the Supreme Court.....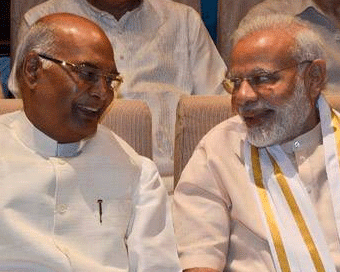 President, PM Greet Soldiers On Army Day
President Ram Nath Kovind and Prime Minister Narendra Modi on Monday greeted the Army personnel on the 70th Army Day. ....
Modi Greets Nation And Pays Tribute To Amar Jawan Jyoti On 69th Republic Day
Prime Minister Narendra Modi on Friday greeted the nation on the occasion of the 69th Republic Day. ....
PM Modi Louds On 'Nari Shakti' And Praises Padma Winners
Prime Minister Narendra Modi on Sunday said "woman power" has contributed a lot in the positive transformation seen in the country and that there are no limits to "Nari Shakti". ....
Modi Urges Opposition To Pass Triple Talaq Bill
Prime Minister Narendra Modi on Monday urged all political parties to pass the Triple Talaq Bill in the Parliament's Budget Session.....
It Is An All-friendly Budget: Modi
Prime Minister Narendra Modi on Thursday hailed Finance Minister Arun Jaitley for presenting an all-friendly budget with a focus on agriculture, health and small businesses. ....