Tag: Prime Minister
Advani Turns 90, Greeted By Political Leaders Across Spectrum
BJP veteran L.K. Advani, who turned 90 on Wedensday, was greeted on his birthday by leaders across political spectrum with Prime Minister Narendra Modi saying that his efforts had richly contributed to building of the party.....
India, US, Japan, Australia Hold First Quad Talks On Indo-Pacific Cooperation
India, Australia, Japan and the US on Sunday agreed that "a free, open, prosperous and inclusive" Indo-Pacific served long-term global interests, giving impetus to an emerging quad of democracies amid Chinas rising military and economic power.....
PM Pays Tribute To Nehru On His Birth Anniversary
Prime Minister Narendra Modi on Tuesday paid tribute to the nation's first Prime Minister Pandit Jawaharlal Nehru on his 128th birth anniversary. ....
BJP CEC To Meet To Decide Gujarat Candidates
Top BJP leaders, including Prime Minister Narendra Modi and party chief Amit Shah, would meet here on Wednesday evening to decide the candidates for the Gujarat assembly elections. ....
Raise Questions About Rafale, Jay Shah From PM: Rahul
Congress Vice President Rahul Gandhi on Thursday asked the media to raise questions about the Rafale deal and on BJP chief Amit Shah's son Jay's income from Prime Minister Narendra Modi.....
Modi's Campaign All About Himself: Chidambaram
Congress leader P. Chidambaram on Tuesday accused Narendra Modi of forgetting that he was the Prime Minister of the country and said his whole election campaign in Gujarat was about himself and his past.....
Modi, Rahul To Step Up Gujarat Poll Campaign On Wednesday
As the fight for Gujarat intensifies, Prime Minister Narendra Modi and Congress Vice President Rahul Gandhi will descend on the poll-bound state on Wednesday, with both stepping up their campaign ahead of the first phase elections on December 9.....
Modi Bought Power From Private Firms At Higher Rates: Rahul
Congress Vice President Rahul Gandhi on Friday accused Prime Minister Narendra Modi of reducing the power generation capacity of government-owned power firms between 2012-16, while buying electricity from private players at a much higher rate.....
Unlike Modi I Am Human, Thanks For Pointing Out Mistake: Rahul To BJP
Congress Vice President Rahul Gandhi on Wednesday thanked the BJP for pointing out mistakes in his tweet question on Tuesday over inflation, saying that "unlike" Prime Minister Narendra Modi he was "human" and did make the odd mistake. He asked the BJP to "please do keep it coming".....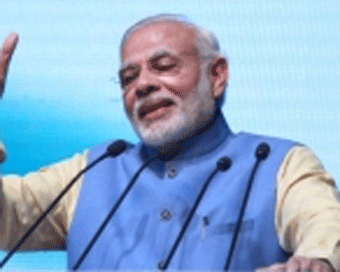 Congress Linking Ram Temple Issue With Elections: Modi
Prime Minister Narendra Modi on Wednesday accused the Congress of linking the Ram temple issue to the Lok Sabha elections and attacked senior leader Kapil Sibal's arguments in the Supreme Court for deferring hearing the matter till after the 2019 polls.....