Tag: President Manoj Tiwari
Actor Ravi Kishan Moves From Congress To BJP
Bhojpuri actor Ravi Kishan, who has also starred in many Bollywood movies, joined the Bharatiya Janata Party (BJP) on Sunday in presence of party president Amit Shah. He had fought the 2014 Lok Sabha election on the Congress ticket from Uttar Pradesh's Jaunpur constituency.....
Video: AAP Lied About Funds To EC: BJP
The BJP on Tuesday accused the Aam Aadmi Party (AAP) and Delhi Chief Minister Arvind Kejriwal of lying to the Election Commission by not revealing the exact amount of funds it received through donations.....
BJP Sends 250 Bikers To 'expose' AAP In Punjab
The Bharatiya Janata Party (BJP) on Monday accused Delhi Chief Minister Arvind Kejriwal of not fulfilling his poll promises for the national capital and sent a team of 250 bikers to Punjab to "expose the lies".....
BJP Dares 'bluffmaster' Kejriwal For Debate On Poll Promises
On the eve of crucial polls in Punjab and Goa, the Bharatiya Janata Party on Friday dared "bluffmaster, liar and egoistic" Delhi Chief Minister Arvind Kejriwal for a debate on his 70 poll promises that the AAP government has failed to fulfil after nearly two years of governance in the national capital.....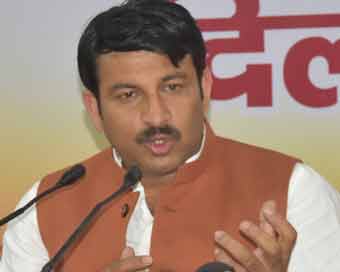 Manoj Tiwari Receives Death Threat On SMS, Culprit Arrested
Delhi BJP President Manoj Tiwari on Sunday said he had received a death threat on SMS on his mobile phone with the sender saying he was under "extreme compulsion" to eliminate him. The culprit has been arrested, police said. ....
BJP Victory A Reaffirmation Of People's Faith In PM: Rajnath
Union Home Minister Rajnath Singh on Wednesday termed the BJP's victory in the Delhi civic polls as a "reaffirmation of people's faith in Prime Minister Narendra Modi's leadership".....
Showing 1 to 6 of 6 (1 Pages)