Tag: Police
Islamic State Claims Istanbul Club Attack
The Islamic State jihadist group has taken credit for the gun attack at a popular nightclub in Istanbul which killed 39 people on New Year's Eve, mostly foreigners, and injured 70.....
Serial Rapist May Be Involved In Over 50 Cases: Police
A serial rapist now in custody may have targeted more than 50 victims although he claims he didn't rape all, police said on Monday.....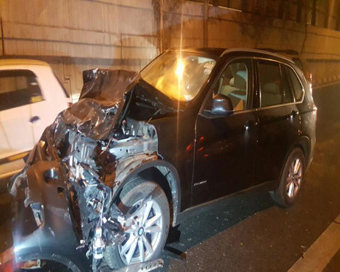 Taxi Driver Killed As BMW Rams His Vehicle
A taxi driver was killed when an over-speeding BMW car rammed into his vehicle here, Delhi Police said on Monday.....
10 Maoists Killed In Chhattisgarh
Ten Maoists are believed to have been killed in a heavy exchange of fire when they attacked a police camp in Narayanpur district of Chhattisgarh.....
Restrictions In Srinagar To Prevent Protest March
Authorities imposed restrictions in Srinagar on Friday to prevent a separatist-called protest march in the city, police said.....
Baghpat: Ajit Singh Faces Challenge From Former Confidants
Former Union minister and Rashtriya Lok Dal (RLD) chief Ajit Singh is finding Baghpat, his home turf, not the bastion it used to be. Ahead of Uttar Pradesh's assembly polls, his own former confidants are contesting on the tickets of rivals while his own party has fielded an outsider.....
Four Policemen Convicted For Fake Encounter
A CBI court on Monday convicted four policemen over a 20-year-old "encounter" that left four persons dead.....
US Homeland Security Issues Detailed Plan On Illegal Immigrants Policies
The (DHS) on Tuesday released detailed policies on crack downs of illegal immigrants, which includedUS Department of Homeland Security bolstering border protection agencies and closing policy loopholes.....
Police Register FIR Of Rioting In ABVP-AISA Clashes
Delhi Police on Wednesday registered an FIR under sections of rioting and assault on public servant against unknown persons, in connection with violent clashes that broke out between two student groups outside Ramjas College here.....
Act Cautiously On Ramjas, Rajnath Tells Police
Home Minister Rajnath Singh on Monday said he was in touch with Delhi Police over the situation arising out of the Ramjas College clash.....