Tag: Patel
89th Oscars: 'La La Land' Lands 14 Nominations, Rahman Out Of Race
Hollywood romantic musical comedy-drama film "La La Land" is nominated across 14 categories -- equalling a record previously set by "Titanic" and "All About Eve" -- for the 89th Academy Awards, it was announced in Los Angeles on Tuesday. Indian composer A.R. Rahman missed the race to the golden statuette, while Indian-origin British actor Dev Patel has one nomination for "Lion".....
India Is What It Is Because Of Sardar Patel: Modi
Prime Minister Narendra Modi on Monday hailed Sardar Vallabhbhai Patel for redrawing the Indian map after independence "to give us what it (country) is today".....
India A Major Driver Of Emerging Economies' Growth: Arun Jaitley
Finance Minister Arun Jaitley said that emerging economies have become increasingly important, accounting for more than 75 per cent of global growth, and that India has been a major driver of global economic growth. ....
Rahul Pokes Fun At RBI, Says 'Govt Looking For Maths Tutor'
Congress Vice President Rahul Gandhi poked fun at RBI Governor Urjit Patel over his remarks that the banned currency notes, deposited after the November 8 demonetisation, were still being counted. ....
BJP Gets Another Patidar Jolt In Gujarat
Another Patel face quit the BJP on Monday, hours after a Patidar leader from north Gujarat alleged that the ruling party had offered him Rs one crore for crossing over.....
JD-U Demands Probe Into Ahmed Patel's Alleged Links With Terrorists
The Janata Dal-United faction led by Bihar Chief Minister Nitish Kumar on Saturday demanded a "free and fair probe" into allegations that Congress leader Ahmed Patel had links with two arrested terrorists in Gujarat.....
Only Few Indians Influenced By IS-ideology: Rajnath
Compared to other nations, only a few Indians are influenced by the terror group Islamic State's (IS) ideology, thanks to the country's social and communal harmony, Union Home Minister Rajnath Singh said on Monday. ....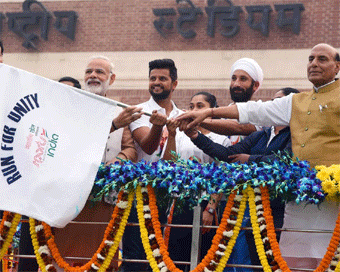 Previous Governments Ignored Patel's Legacy: Modi
Prime Minister Narendra Modi on Tuesday slammed "previous governments" for ignoring Sardar Vallabhbhai Patel's legacy to unite the country.....
Patidars To Hold Rally In Support Of Hardik Despite Denial Of Permission
Ignoring denial of permission by the authorities, the Patidar Anamat Andolan Samiti (PAAS) is determined to go ahead with its mega rally in Mansa town here on Saturday evening to demonstrate the community's support to young leader Hardik Patel, despite the 'sex CDs' on him, - in a big worry for the ruling BJP.....
NCP To Contest Gujarat Polls Solo
The Nationalist Congress Party (NCP), which was earlier in talks with the Congress to form an alliance to contest the upcoming Gujarat assembly elections, on Monday decided to contest alone for all the 182 constituencies in the state.....