Tag: Nitish Kumar
Hundreds Of Thousands Join Human Chain In Bihar
Hundreds of thousands of people across Bihar on Saturday, including men, women and children, formed a human chain in support of the state government's prohibition policy.....
Won't Ever Join Politics, Says Nitish Kumar's Son
Unlike sons and daughters of other politicians in the country, Bihar Chief Minister Nitish Kumar's only son, Nishant Kumar, says he has no interest in politics and he will never take the plunge.....
Over 45,000 Held For Violating Bihar Liquor Ban
Over 45,000 people have been arrested in a year in Bihar for violating the liquor prohibition law imposed by the Janata Dal-United government.....
Nitish Kumar Takes Oath As Bihar CM Again, Rejoins Hand With BJP
For the 6th time, Nitish Kumar took oath as Bihar Chief Minister on Thursday and this time with the Bharatiya Janata Party (BJP) as a partner of his Janata Dal-United. Sushil Kumar Modi took oath as deputy CM.....
'Bihar Mandate Was Against BJP': Tejashwi
After Nitish Kumar sworn-in as the Bihar Chief Minister for the sixth time on Thursday, his former deputy Tejashwi Yadav has slammed him for cheating the grand alliance that ruled the state.....
Bihar Crime: From Myth To Reality
It was the month of March in the Y2K (Year 2000) when the then first time Chief Minister of Bihar Nitish Kumar paved the way for Rabri Devi to form government after he left the Assembly just before the floor test for confidence motion.....
JD-U Demands Probe Into Ahmed Patel's Alleged Links With Terrorists
The Janata Dal-United faction led by Bihar Chief Minister Nitish Kumar on Saturday demanded a "free and fair probe" into allegations that Congress leader Ahmed Patel had links with two arrested terrorists in Gujarat.....
Nitish-led JD-U To Contest Gujarat Elections On Its Own
The Janata Dal-United faction of Bihar Chief Minister Nitish Kumar on Saturday announced it will contest the Gujarat Assembly elections on its own, and not form an alliance with the BJP.....
Poll Symbol: HC Seeks JD-U MP, EC's Response To Sharad Yadav Faction's Plea
The Delhi High Court on Thursday issued a notice to Janata Dal-United (JD-U) leader Ramachandra Prasad Singh and the Election Commission (EC) on a plea filed by the Sharad Yadav faction of the party, challenging the poll panel's order of granting the party's "Arrow" symbol to the faction led by Bihar Chief Minister Nitish Kumar.....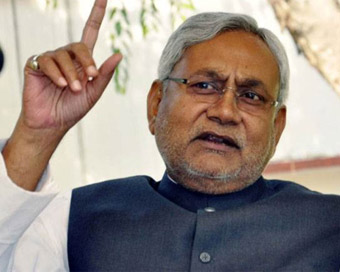 Ram Temple Is Not On Our Agenda: JD-U
Bihar Chief Minister Nitish Kumar's JD-U, which is part of the BJP-led NDA, on Monday said the construction of the Ram temple in Ayodhya is not on the party's agenda.....