Tag: Moscow
Spacecraft With Three ISS Astronauts Returns To Earth
Russian Soyuz MS-02 spacecraft that was carrying three crew members of the International Space Station (ISS) successfully landed on Monday in Kazakhstan, Russian State Space Corporation said.....
'Russia Denies Knowledge Of IS Leader Al-Baghdadi's Arrest'
Officials from Russia's Foreign Ministry have denied knowledge of reports that Abu Bakr al-Baghdadi, leader of the Islamic State jihadist group, has been arrested in Syria, Kurdish broadcaster Rudaw said on Tuesday.....
Russian Military Plane Shot Down In Syria
A Russian pilot has been killed after his plane was shot down by militants in Syrian province of Idlib, the Russian Defence Ministry has said.....
Vladimir Putin Leads Russia Presidential Election With 76.65%
President Vladimir Putin was leading in the Russian presidential election with 76.65 per cent of the votes after 99 per cent of the ballots were counted, the Central Election Commission (CEC) said on Monday.....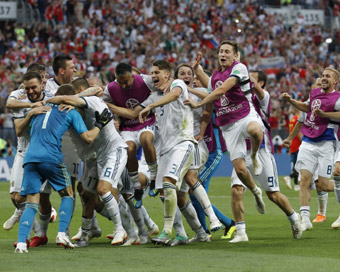 World Cup: Russia Edge Out Spain To Enter QF
Hosts Russia stunned pre-tournament favourites Spain 4-3 (1-1) via penalty shootouts here on Sunday to enter the quarter-finals of the FIFA World Cup 2018.....
Russia, Iran Sign Economic Cooperation Deals
Russia and Iran signed on Tuesday a string of cooperation agreements in various fields including the energy sector as President Vladimir Putin hosted his Iranian counterpart Hassan Rouhani for his official visit to Moscow.....
US Planning 'further Provocations' In Syria: Putin
Russian President Vladimir Putin claimed sensationally on Tuesday that "further provocations" by the US are being planned in other locations in Syria including its capital.....
Passenger Jet With 71 On Board Crashes In Russia
A passenger plane with 71 people on board crashed shortly after leaving Moscow, with no hope of survival of the crew and passengers, media reported on Sunday.....
Russia Ready To Discuss Any Issue With US: Putin
Russian President Vladimir Putin has said his country is ready to discuss any issue with the US and urged Washington to adopt the same attitude.....
Voting Begins For Russian Presidential Election
Russians residing in the country's easternmost regions of Kamchatka and Chukotka began casting votes on Sunday to elect the next Russian president.....