Tag: Mamata Banerjee
'Sweet News' As Bengal Wins GI Tag For 'rosogolla'
Ending a bitter fight with neighbouring Odisha, West Bengal on Tuesday won the Geographical Indication (GI) tag for the iconic 'rosogolla', signifying that the spongy, syrupy sweet originated in its territory. ....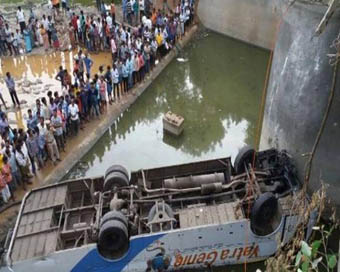 Four Dead, Several Missing In Bengal Bus Accident
Four persons were killed and several are missing after a bus carrying nearly 50 passengers crashed through a bridge railing and plunged into a canal in West Bengal's Murshidabad district on Monday morning, police said. ....
Bhaichung Bhutia Quits Trinamool
Former Indian soccer captain Bhaichung Bhutia on Monday announced that he has resigned from the Trinamool Congress (TMC) and was no more associated with any political party.....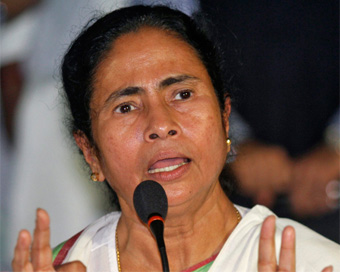 Mamata Condemns Tinsukia Killings, Trinamool To Hold Protest Rallies
Strongly condemning the gunning down of five people in Assam's Tinsukia district, West Bengal Chief Minister Mamata Banerjee on Thursday demaned the punishment of the perpetrators at the earliest.....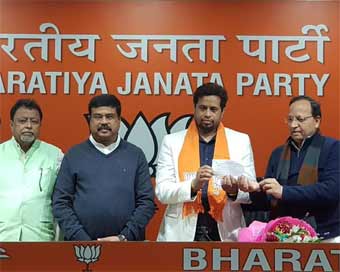 TMC MP Saumitra Khan Joins BJP
In a setback to West Bengal Chief Minister Mamata Banerjee ahead of the Lok Sabha polls, Trinamool Congress (TMC) MP Saumitra Khan on Wednesday joined the Bharatiya Janata Party (BJP).....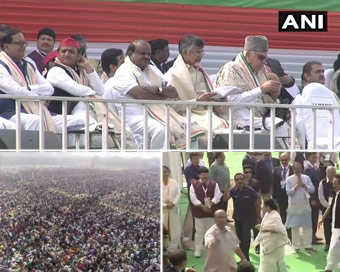 Tens Of Thousands Attend Bengal's Mega Anti-BJP Rally
Tens of thousands of enthusiastic workers and supporters, including a man on a wheelchair, attended the mega anti-BJP rally at the historic Brigade Parade ground here on Saturday raising their voices against Prime Minister Narendra Modi.....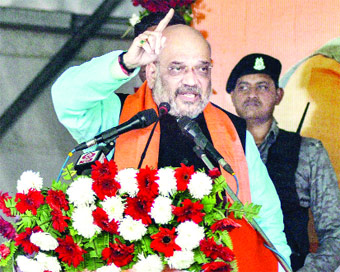 Mamata Is Behaving Like 'Talibani Didi', Says BJP
The BJP on Tuesday came down heavily on West Bengal Chief Minister Mamata Banerjee after buses, in which party workers were returning from Amit Shah's rally in East Midnapore, were vandalised.....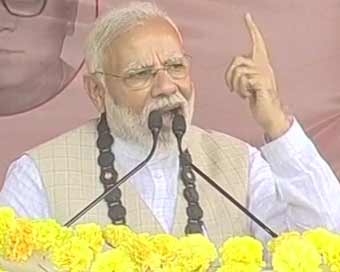 Modi Urges Trinamool To Support Citizenship Bill
Prime Minister Narendra Modi on Saturday urged West Bengal's ruling Trinamool Congress to support the Citizenship Amendment Bill in Parliament to give the refugees living in India the right to citizenship.....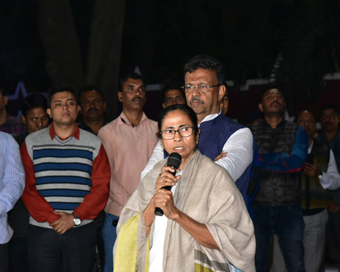 Unprecedented Confrontation: Mamata Resorts To Sit-in After CBI-police Face-off
In an unprecedented confrontation between the Narendra Modi-led Central and West Bengal governments, chief Minister Mamata Banerjee began a sit-in on Sunday here accusing the Centre of trying to run a parallel administration in states, saying there is a "constitutional break-down" after an ugly face-off between the CBI and the state police.....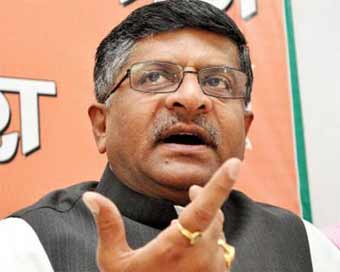 SC Order Moral Victory For CBI: Ravi Shankar Prasad
Union Law and IT Minister Ravi Shankar Prasad on Tuesday described the Supreme Court order asking Kolkata Police Commissioner Rajeev Kumar to appear before the CBI, as a moral victory for the probe agency and said that his questioning was not influenced by political considerations.....