Tag: Leander Paes
Paes-Martina Enter Australian Open Quarters
Indian tennis veteran Leander Paes and his Swiss mixed doubles partner Martina Hingis entered the quarter-finals of the Australian Open in Melbourne on Monday.....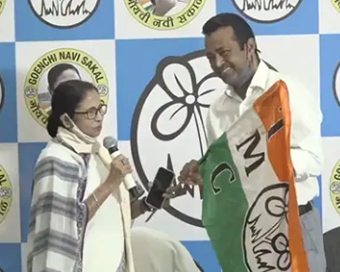 Leander Paes Joins Trinamool In Mamata Banerjee's Presence In Poll-bound Goa
Indian tennis ace and Olympic medal winner Leander Paes joined the Trinamool Congress in a formal induction ceremony in Goa in the presence of West Bengal Chief Minister Mamata Banerjee. ....
India Attempts To Break 'largest Tennis Lesson' Record
With as many as 956 young champions clustered at a tennis training session with players and coaches here, India attempted to break a record of "the largest tennis lesson".....
Paes Wins, Sania Loses In Australian Open
Veteran Leander Paes and his mixed doubles partner Martina Hingis won the first round but Sania Mirza's women's doubles campaign ended in the third round at the Australian Open tennis tournament here on Sunday.....
Ramanathan Hands India Win Over New Zealand In Davis Cup
Tennis player Ramkumar Ramanathan defeated Finn Tearney of New Zealand in the first match of the reverse singles to hand India a comfortable 3-1 victory in Asian Oceania Group 1 Davis Cup tie here on Sunday.....
Bengaluru To Host India, Uzbekistan Davis Cup Tie
Bengaluru will host the second round of the Asia/Oceania Group 1 tie between India and Uzbekistan which is due to start on April 7, the All India Tennis Association (AITA) announced on Thursday. ....
Bringing Paes, Bhupathi Together Again A Great Move, Says Naresh Kumar
Former Davis cup captain Naresh Kumar on Thursday hoped Indian tennis superstars Leander Paes and Mahesh Bhupathi can set their differences aside and make their chemistry work when Uzbekistan comes calling for the second round of the Asia/Oceania Group 1 Davis Cup tie, beginning on April 7.....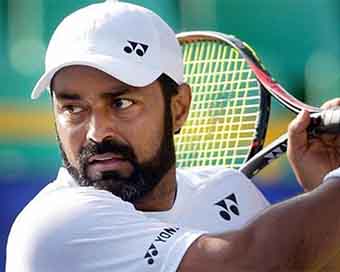 It Will Take A While Before India Wins Another Olympic Tennis Medal: Leander Paes
Leander Paes, winner of multiple Grand Slam titles, has said it will take a while before India can win an Olympic medal in tennis. ....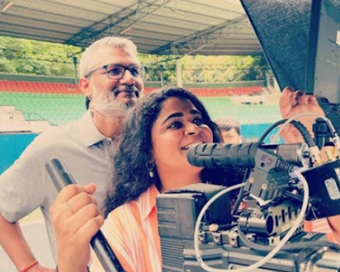 On The Ball: Nitesh Tiwari On Directing Debut Web Series 'Break Point'
Filmmaker Nitesh Tiwari's debut web series 'Break Point' released on Friday. The series, based on the partnership and seperation of tennis stars Mahesh Bhupathi and Leander Paes, answers many questions. Nitesh reveals that he approached the series with a blank slate. ....
Showing 1 to 9 of 9 (1 Pages)