Tag: Lalu Prasad Yadav
Fodder Scam: Lalu Yadav Will Be Tried For Conspiracy
In a setback for RJD supremo Lalu Prasad, the Supreme Court on Monday set aside a Ranchi High Court ruling and ordered that he be tried in all the remaining five fodder scam cases. ....
CBI Raids Premises Of Lalu Yadav And Family In Hotel Tender Case
The CBI on Friday raided the premises of RJD chief Lalu Prasad Yadav and his family in connection with the irregularities in tenders allotted to a private company for development, maintenance and operation of IRCTC hotels.....
Nitish Kumar Takes Oath As Bihar CM Again, Rejoins Hand With BJP
For the 6th time, Nitish Kumar took oath as Bihar Chief Minister on Thursday and this time with the Bharatiya Janata Party (BJP) as a partner of his Janata Dal-United. Sushil Kumar Modi took oath as deputy CM.....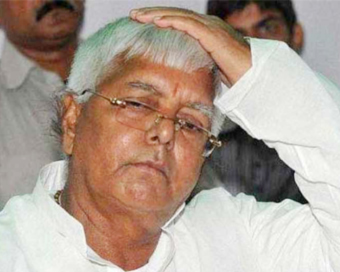 Supreme Court Denies Bail To Lalu Prasad In Fodder Scam Case
The Supreme Court on Wednesday refused bail to former Bihar Chief Minister and Rashtriya Janata Dal leader Lalu Prasad in the multi-crore fodderscam case.....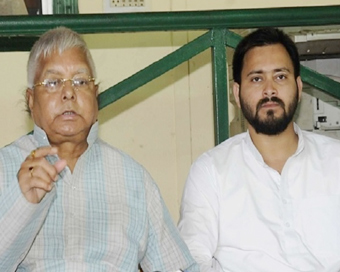 NDA Sweeps Bihar With 39/40 Seats, Mahagathbandhan Routed
The rout of the Rashtriya Janata Dal (RJD), which led the Mahagathbandhan in Bihar, has been the biggest shock in these elections.....
Lalu Taunts Modi Over 'adopted Son' Remark
RJD chief Lalu Prasad on Friday attacked Prime Minister Narendra Modi by saying that if he is the adopted son of Uttar Pradesh, he should reveal who is his father.....
PM Modi Supports Nitish Kumar For Taking Stand Against Corruption
Minutes after Nitish Kumar stepped down as Bihar Chief Minister, Prime Minister Narendra Modi congratulated the JDU supremo for taking a stand against corruption.....
Nitish Wins Bihar Assembly Floor Test With Support Of 131 MLAs
Chief Minister Nitish Kumar on Friday proved his majority in the Bihar assembly while the RJD protested in the house during the confidence vote. Two days earlier he dramatically embraced the BJP.....
No One Can Beat Modi In 2019 LS Polls: Nitish Kumar
Bihar Chief Minister Nitish Kumar, who rejoined hands with BJP, said no one can beat Prime Minister Narendra Modi in the 2019 Lok Sabha elections.....
Modi May Call Lok Sabha Polls Next Year: Lalu
Prime Minister Narendra Modi may go for Lok Sabha elections next year, a year ahead of schedule, RJD leader Lalu Prasad said on Sunday.....