Tag: LG
Manohar Parrikar Takes Over As Goa CM For Fourth Time
BJP leader Manohar Parrikar was sworn in Chief Minister of Goa for the fourth time on Tuesday.....
India May Again Take 'out Of Box' Action Against Pakistan : Amit Shah
The Narendra Modi government may again take "out of the box" action against Pakistan if it continues to indulge in a proxy war against India, BJP President Amit Shah told the party's office-bearers at a meeting on Friday.....
Repoll Ordered In 48 Polling Stations In Punjab
The Election Commission on Tuesday ordered repoll in 48 polling stations of five assembly constituencies in Punjab where polling got interrupted due to snags in electronic voting machines (EVMs) and voter verifiable paper audit trail (VVPAT) equipment.....
Kejriwal Approves 37% Hike In Minimum Wage, Calls It 'Holi Gift'
Delhi Chief Minister Arvind Kejriwal on Saturday approved around 37 per cent hike in the minimum wages and termed it a "Holi gift" for the city's labour class. It now needs to be cleared by Lt. Governor Anil Baijal.....
Change In Status Of Gilgit-Baltistan Unacceptable: India
India on Thursday said that any efforts to change the status of Gilgit-Baltistan region will not be acceptable, an official said here.....
Protest Shutdown Hits Life In Kashmir, Clashes At Some Places
Life across the Kashmir Valley was affected on Wednesday by the separatist-called protest shutdown against the shooting death of three civilians during security operations against militants and clashes broke out in some parts.....
Poll Violence Shows Failure Of BJP-PDP Alliance, Centre's Kashmir Policy: Rahul
Congress Vice-President Rahul Gandhi on Monday slammed the government over the poor turnout in the Srinagar parliamentary by-poll, saying it reflects the "total failure" of the state's ruling BJP-PDP alliance and the Centre's Kashmir policy.....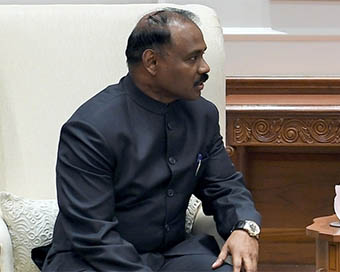 J&K Govt Recovers Rs 39.69 Lakh From IAS Officer
The Jammu & Kashmir government has recovered Rs 39.69 lakh from a senior IAS officer who had allegedly taken the amount from an organisation.....
Video: Meerut Poaching Racket: Ex-Colonel, National Shooter Son Linked
In a coordinated raids carried out by Directorate of Revenue Intelligence (DRI), Wild Life Department and local police, a big organised racket of poaching, illegal wildlife hunting and arms trafficking has been unearthed in Meerut. Raids have been carried out at the residence of a retired army colonel.....
Five Policemen, Two Bank Employees Killed In Kashmir
Militants attacked a cash van and shot dead five policemen and two bank employees in Jammu and Kashmir's Kulgam district on Monday, police said.....