Tag: India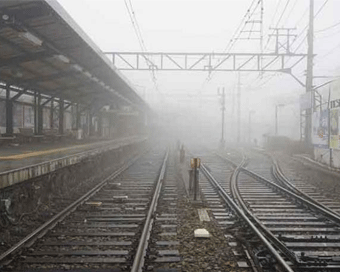 20 Trains Delayed, 2 Rescheduled Due To Fog
At least 20 trains were delayed, two rescheduled and one cancelled on Saturday due to fog in many parts of north India, a railway official said.....
Movement Towards Digital Transactions To Continue: Modi
Prime Minister Narendra Modi on Saturday said India would continue moving towards digital transactions to make the country a less cash society -- an initiative following the spiking of old 500 and 1,000 rupee notes.....
Four-month-old Girl Found Abandoned In Delhi
A four-month-old baby girl was found abandoned near a temple in a forested area here on Saturday, police said. ....
India Pull Off Stunning Death-over In Second T20I Against England
India produced an inspired bowling display to deny England their first limited-overs series in the country since 1984, winning the second Twenty-20 International (T20I) here on Sunday by five runs.....
Fighting Ideology That Killed Gandhi: Rahul
Congress Vice President Rahul Gandhi on Monday said that he was fighting against an ideology that killed Father of the Nation, Mahatma Gandhi.....
RBI Lifts ATM Cash Withdrawal Limits From Wednesday
The RBI on Monday ended all curbs on withdrawals from Current Accounts, Cash Credit Accounts and Overdraft Accounts with immediate effect.....
No Rush For Cash, A Day Before ATM Curbs To Lift
There were no queues outside most ATMs in Delhi and Noida on Tuesday morning, a day before curbs on withdrawals are set to be lifted by the Reserve Bank of India (RBI). ....
Leggie Chahal's 6/25 Derails England In Third T20I
Leg-spinner Yuzvendra Chahal's maiden five-wicket haul turned things around for India as the hosts beat England by 75 runs in the third and final Twenty20 International to clinch the series 2-1 at the M.Chinnaswamy Stadium here on Wednesday.....
Live India Vs England T20I : India Set The Target Of 203 Run
England won the toss and asked India to bat in the third and final Twenty20 International cricket match at the M. Chinnaswamy Stadium here on Wednesday.....
Geelani Hospitalised In Srinagar, Condition Stable
Senior hardline separatist leader Syed Ali Geelani, who was admitted to a hospital here late last night after he complained of chest pain, is doing fine, said informed sources.....