Tag: France
Cabinet Informed About India-France Technology Pact
The Union Cabinet was apprised on Wednesday of the signing of agreement between India and France to ensure exchange of best practices and technology.....
France's Fillon Refuses To Quit Presidential Race
Beleaguered French politician Francois Fillon on Sunday declared "no one can stop" his bid for the presidency after a mass rally attended by thousands in Paris.....
Kwatra Appointed New Indian Ambassador To France
Vinay Mohan Kwatra was on Thursday appointed as the new Ambassador of India to France, a Ministry of External Affairs release said.....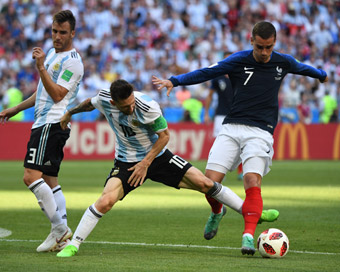 World Cup: France In Quarter-finals, Pip Argentina 4-3
France pipped Argentina 4-3 to enter the quarter-finals of the 2018 FIFA World Cup here on Saturday.....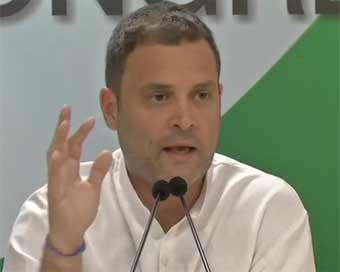 PM Modi Is Corrupt: Rahul
Congress President Rahul Gandhi on Thursday called Prime Minister Narendra Modi corrupt following a French media report that said Reliance Defence was an "imperative and obligatory" condition for securing the Rafale contract. ....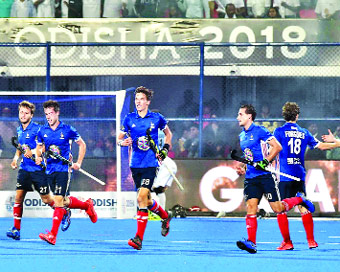 France Upset Argentina; Knock Spain Out Of Hockey World Cup
The result meant Spain were knocked out of the World Cup after finishing last in the pool. Spain played out a 2-2 draw with New Zealand earlier in the day at the Kalinga Stadium here.....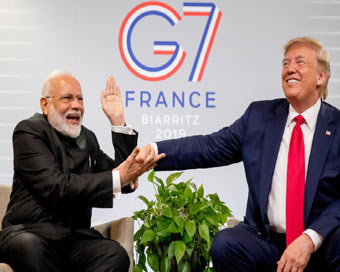 After Modi-Trump Meet, Pak Isolation On Kashmir Is Complete
With US President Donald Trump backing off from his offer to mediate, which Islamabad had been eagerly clinging on to, and with the other global leaders too unwilling to back it, including those from the Muslim world, Pakistan's isolation on the international arena on Kashmir appears complete.....
Cristiano Ronaldo Wins FIFA Best Player Award
Real Madrid superstar Cristiano Ronaldo won the FIFA Best Male Player Award over his great rival Lionel Messi and Antoine Griezmann for a stellar 2015-16 season, at a glittering ceremony in Zurich.....
Terror In Heart Of London: India, US, France, EU Condole
India, the US, France, the European Union on Wednesday strongly condemned the deadly attack in London that killed at least four and injured 20 people.....
Emmanuel Macron Wins French Presidency
Centrist candidate Emmanuel Macron was declared victor after he won 20.7 million votes, firmly beating Marine Le Pen, who took about 10.6 million in the French Presidential elections' crucial runoff on Sunday.....