Tag: Election Commission
EC Pulls Up Kejriwal For 'wild Allegations'
The Election Commission on Sunday pulled up Delhi Chief Minister Arvind Kejriwal for targeting the poll panel and warned of stern action if he abetted bribery ahead of elections.....
Will EC Act Against Parrikar, Captain: Kejriwal
Delhi Chief Minister Arvind Kejriwal on Monday asked the Election Commission if it will "dare" act against Defence Minister Manohar Parrikar and Congress leader Amarinder Singh for asking voters to accept money to attend rallies.....
EC Cracks Whips, Transfers Officials In UP
Hours before the first phase of polling in Uttar Pradesh, the Election Commission (EC) on Friday cracked the whip on the bureaucracy and police.....
High Voting As Polling Ends In Uttarakhand
Assembly elections in Uttarakhand ended on Wednesday in a fight mainly between the ruling Congress and the BJP, with officials saying the vote percentage will be more than in 2012. ....
EC Checks Security Of EVMs In Punjab
A team of the Election Commission arrived in Punjab on Thursday to inspect the security of buildings where electronic voting machines (EVMs) of the Punjab assembly elections have been kept.....
Stalin Meets Sonia, Discusses Political Situation In TN
A day after DMK leader M.K. Stalin met President Pranab Mukherjee and submitted a memorandum on the events that took place in Tamil Nadu assembly last week, he met Congress President Sonia Gandhi on Friday and discussed the political situation in the state.....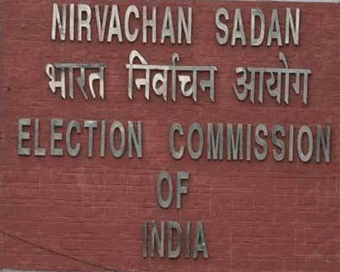 Complete Counting Arrangements By Tuesday: Poll Panel
The Election Commission on Sunday directed Chief Electoral Officers (CEOs) in the five states to complete vote counting arrangements by Tuesday.....
Over 86 Percent Vote In Manipur, Polling Peaceful
Colourfully decked-up men and women came out in huge numbers to mark their democratic choice, as over 83 per cent votes were cast amidst tight security in the second and final phase of the Manipur Assembly polls on Wednesday.....
EC Announces Dates For Various Lok Sabha, Assembly By-polls
The Election Commission on Thursday announced the dates for by-polls to two Lok Sabha seats in Jammu and Kashmir and one in Kerala, and assembly seats in 10 states.....
Lessons Learnt The Hard Way: Appeasing Minorities Is Passé
Promises made and deliverance doesn't match. Stop fooling them....