Tag: ED
Modi Congratulates Trump, Says Looking Forward To Working With Him
Prime Minister Narendra Modi on Friday congratulated Donald Trump on his becoming the US President and said he looked forward to working with him to further deepen India-US ties.....
20 Killed In Pakistan's Market Blast
At least 20 people were killed and over 50 were injured on early Saturday when a powerful explosion ripped through a crowded market in Kurram agency, Pakistans northwestern tribal region, officials said.....
Pakistan To Return Indian Soldier In 'goodwill Gesture'
Pakistan on Saturday said it was returning in a "goodwill gesture" Indian soldier Chandu Babulal Chavan, who inadvertently crossed the LoC in September last year.....
Pakistan Releases Indian Soldier, Handed Over To India
Pakistan on Saturday released Indian Army soldier, Sepoy Chandu Babulal Chavan, who had inadvertently crossed the LoC and was in the captivity of the neighbouring country since September last year.....
Goa CM Regrets Not Acting Tough Against Corrupt, Criminals
In a first admission about the BJP-led coalition government's inability to crack down on corruption, Goa Chief Minister Laxmikant Parsekar admitted that he did not take "personal interest" in acting against corruption and criminals in the state.....
Jallikattu Held In Tamil Nadu, Claims Two Lives
Jallikattu, a popular bull taming sport, was on Sunday held in parts of Tamil Nadu with tens of thousands taking part but two participants were killed and several injured at one event.....
Storms Kill 11, Injure 23 In US
Storms lashing the southern United States have killed 11 persons in the state of Georgia, local authorities reported on Sunday. ....
Paes-Martina Enter Australian Open Quarters
Indian tennis veteran Leander Paes and his Swiss mixed doubles partner Martina Hingis entered the quarter-finals of the Australian Open in Melbourne on Monday.....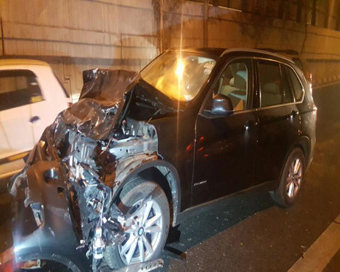 Taxi Driver Killed As BMW Rams His Vehicle
A taxi driver was killed when an over-speeding BMW car rammed into his vehicle here, Delhi Police said on Monday.....
Lodha Suggestions For Other Sports Bodies
The Supreme Court on Monday sought the central government's response to a plea that the recommendations of the Justice Lodha Committee for organisational reforms in the Indian cricket board should be extended to all other national sports bodies.....