Tag: Chief Minister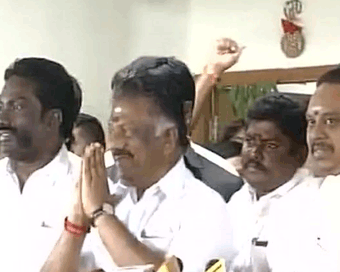 Two Lok Sabha MPs Join Panneerselvam Camp
Two Lok Sabha members on Saturday extended support to acting Tamil Nadu Chief Minister O.Panneerselvam by joining his camp.....
Euphoria In Panneerselvam Camp; DMK, Congress Welcome SC Verdict
The AIADMK faction led by acting Tamil Nadu Chief Minister O.Panneerselvam erupted in joy on Tuesday after the Supreme Court restored the conviction of party General Secretary V.K. Sasikala and two of her relatives in a disproportionate assets case.....
Voting For 69 Uttarakhand Seats On Wednesday
Polling for the 69 Vidhan Sabha seats in the hill state of Uttarakhand will be held on Wednesday.....
Voting For 67 Seats On Wednesday In UP
Voting will be held in 67 assembly constituencies spread across 11 districts in the second phase of the Uttar Pradesh elections on Wednesday.....
SC Derails Sasikala, Faction Fight Goes On
The Supreme Court on Tuesday derailed AIADMK General Secrtary V.K. Sasikala's political career even before take-off by upholding her conviction for corruption along with two relatives and the late J. Jayalalitha. But the ugly war for power in Tamil Nadu continued.....
Numbers In His Favour, Palaniswami Confident Of Winning Confidence
Tamil Nadu Chief Minister Edappadi K. Palaniswami said he would prove his majority in the assembly on Saturday as asked by Governor C. Vidyasagar Rao.....
Ex-Arunachal CM Kalikho Pul's Wife Demands Probe Into His Suicide
Late Arunachal Pradesh Chief Minister Kalikho Pul's wife on Friday demanded a Central Bureau of Investigation (CBI) probe to find the actual reasons behind her husband's suicide.....
UP Doesn't Need An Adopted Son: Priyanka Slams Modi
Congress President Sonia Gandhi's daughter Priyanka Gandhi Vadra on Friday launched a scathing attack on Prime Minister Narendra Modi saying Uttar Pradesh "doesn't need an adopted son" to work for its development, and people should not vote for "one who makes false promises".....
PDP Leader Basharat Bukhari Resigns From J&K Cabinet
Apparently irked over change of his portfolio, senior Peoples Democratic Party leader Basharat Bukhari on Friday resigned from Chief Minister Mehbooba Mufti's cabinet.....
OPS Urges Family Members To Advise MLAs For 'voting Properly'
Former Tamil Nadu Chief Minister O. Panneerselvam on Friday urged family members of the AIADMK legislators to advise them to vote against the confidence motion to be moved by Edappadi K. Palaniswami -- the newly sworn-in Chief Minister -- on Saturday.....