Tag: Bharatiya Janata Party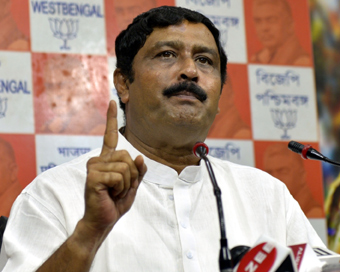 BJP To Observe 'Black Day' Across Bengal On Monday
In a bid to protest against the killing of their party men in West Bengal's North 24 Parganas district a day ago, the Bharatiya Janata Party (BJP) will observe 'Black Day' across the state on Monday, a senior state BJP leader said on Sunday.....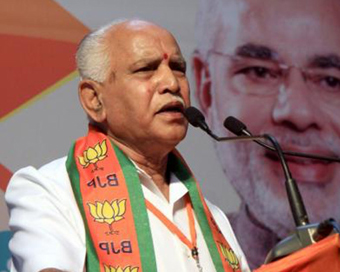 BJP Denies Any Role In Resignation Of Karnataka MLAs
Karnataka's opposition Bharatiya Janata Party (BJP) on Saturday denied playing any role in the resignation of 11 legislators of the ruling Congress-Janata Dal-Secular (JD-S) coalition in Karnataka.....
Five States To Vote Between February 4 And March 8
Assembly elections in Uttar Pradesh, Uttarakhand, Goa, Punjab and Manipur will be held between February 4 and March 8, Chief Election Commissioner Nasim Zaidi announced on Wednesday.....
Uproar In J&K Assembly Over Compensation To 2016 Unrest Victims
The Jammu and Kashmir assembly on Monday witnessed uproarious scenes when opposition National Conference (NC) demanded clarification from the state government over the issue of compensation to the victims of 2016 valley unrest.....
BJP Moves EC Seeking 'seizure' Of Congress Poll Symbol
Claiming that Congress Vice President Rahul Gandhi's correlating the party symbol 'hand' with religious figures was violative of the poll code of conduct, the BJP on Tuesday moved the EC seeking 'seizure' of the election symbol of Congress.....
Veteran Congress Leader N.D. Tiwari Joins BJP
Veteran Congress leader N.D. Tiwari, 91, and his son Rohit Shekhar on Wednesday joined the Bharatiya Janata Party (BJP).....
BJP Sends 250 Bikers To 'expose' AAP In Punjab
The Bharatiya Janata Party (BJP) on Monday accused Delhi Chief Minister Arvind Kejriwal of not fulfilling his poll promises for the national capital and sent a team of 250 bikers to Punjab to "expose the lies".....
Former BSP Heavyweights Figure In BJP's Third List For UP
The Bharatiya Janata Party (BJP) on Tuesday released its third list of 67 candidates for the upcoming Uttar Pradesh assembly polls. Like in the previous two lists, the BJP has trusted turncoats and given them tickets.....
We Mean Business, While Others Selling Pipe Dreams: UP CM
Uttar Pradesh Chief Minister Akhilesh Yadav on Wednesday sought the support of people in returning to power, saying his government had fulfilled promises made in the 2012 election manifesto.....
Will EC Act Against Parrikar, Captain: Kejriwal
Delhi Chief Minister Arvind Kejriwal on Monday asked the Election Commission if it will "dare" act against Defence Minister Manohar Parrikar and Congress leader Amarinder Singh for asking voters to accept money to attend rallies.....