Tag: Bharatiya Janata Party
SC Decision On CBI Plea In Babri Masjid Conspiracy Case On Wednesday
The Supreme Court is likely to pronounce its verdict on Wednesday on the CBI's plea seeking revival of the criminal conspiracy charge against eight senior BJP and VHP leaders including L.K. Advani and Murli Manohar Joshi in the 1992 Babri Masjid demolition case.....
Campaigning For Delhi Civic Poll Ends
The high-voltage campaigning for Delhi municipal elections ended on Friday.....
BJP Parliamentary Board Likely To Meet Today
The ruling Bharatiya Janata Party (BJP) is likely to hold parliamentary board meeting on Wednesday at 09:30 AM to discuss the agenda of the party in the Parliament and other matters. ....
56% Polling In Gurdaspur LS Bypoll
A total of 56 per cent of registered voters exercised their franchise on Wednesday in the by-election to the Gurdaspur Lok Sabha constituency, election officials said.....
Congress Minister Joins BJP In Himachal, Another May Follow
Himachal Cabinet Minister Anil Sharma on Sunday resigned from the government and the ruling Congress and joined the opposition BJP along with his father and former Telecom Minister Sukh Ram.....
Modi, Rahul To Step Up Gujarat Poll Campaign On Wednesday
As the fight for Gujarat intensifies, Prime Minister Narendra Modi and Congress Vice President Rahul Gandhi will descend on the poll-bound state on Wednesday, with both stepping up their campaign ahead of the first phase elections on December 9.....
Rahul Takes Over As Congress Chief, Attacks Modi For Indulging In 'medieval' Politics
Rahul Gandhi on Saturday formally took over as the new Congress President taking the mantle of the country's oldest political party from his mother Sonia Gandhi.....
Mamata Cries 'Delhi Chalo', Says Target Red Fort
West Bengal Chief Minister Mamata Banerjee on Monday gave out slogan "Delhi Chalo" and vowed to imprint her party's footsteps in the national capital, but claimed that they would not look for any benefits other than betterment of the country.....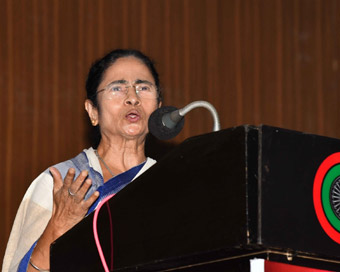 Collective Decision Will Be Taken On PM Candidate: Mamata
Amid jousting in the opposition, West Bengal Chief Minister and Trinmool Congress Chief Mamata Banerjee on Tuesday said that a collective decision will be taken on the issue of Prime Ministerial candidate.....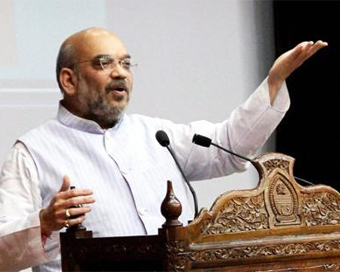 Shah Hits Out At Rahul, Dubs Congress As 'Jhoothi Party'
Bharatiya Janata Party (BJP) President Amit Shah on Wednesday hit out at Congress chief Rahul Gandhi for his demand for a Joint Parliamentary Committee (JPC) to probe Rafale deal and accused him of lying over the issue.....