Tag: Bharatiya Janata Party
BJP Wins Five Assembly Seats In Ghaziabad
The Bharatiya Janata Party (BJP) on Saturday won all the five assembly constituencies of Ghaziabad district with thumping majorities as part of its landslide victory in Uttar Pradesh. ....
BJP Wins All Lucknow Seats, Aparna Yadav Loses
The Bharatiya Janata Party (BJP) on Saturday won all five seats in the state capital, including Lucknow Cantonment where its candidate Rita Bahuguna Joshi defeated Mulayam Singh Yadav's daughter-in-law Aparna Yadav by over 30,000 votes.....
Amid Hung Assembly, Congress And BJP Stake Claim In Goa
Goa appeared headed for a hung assembly on Saturday even as both the Congress and the BJP claimed they will form the new government in the coastal state. ....
322 Of New UP MLAs Crorepatis, 143 Face Criminal Cases
A whopping 322 of the 403 new lawmakers elected to the Uttar Pradesh assembly are 'crorepatis' (multi-millionaires) while as many as 143 have criminal cases, including of murder, pending against them.....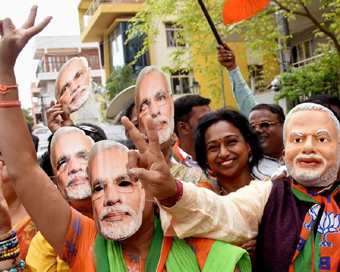 NPF Assures Support To New Manipur Government
Nagaland Chief Minister Shurhozelie Liezietsu on Tuesday brushed aside reports that his Naga People's Front (NPF) will not support the new non-Congress coalition government in Manipur.....
BJP Used Money To Steal Goa, Manipur Mandates: Rahul Gandhi
Congress Vice President Rahul Gandhi on Tuesday accused the BJP of using money to "steal the mandate" in Manipur and Goa following the party's bid to form governments in both the states despite being the runner-up. ....
State Election Results To Facilitate Reforms: Moody's
Global credit rating agency Moody's Investor's Service on Wednesday said the recent state election results will facilitate reforms by the BJP led Indian government.....
Myth Of Modi-RSS Rift: They Remain Very Much On Same Page
The emphatic victory of the Bharatiya Janata Party in the Uttar Pradesh and Uttarakhand assembly polls has brought the partys relationship with its ideological mentor, the Rashtriya Swayamsevak Sangh, back in focus.....
Pakistan Blames India For Imperilling Regional Peace
Pakistan has accused India of imperilling South Asias peace and security and urged New Delhi to recognise the importance of bilateral dialogue between the two countries, media reported on Friday. ....
Modi Promises Record Uttarakhand Development Under Rawat
Prime Minister Narendra Modi on Saturday promised that the BJP government in Uttarakhand led by Chief Minister Trivendra Singh Rawat will return the public affection with a record development in the state. ....