Tag: Bharatiya Janata Party
EC Announces Cash Expenses Limit Per Candidate In Five States
The Election Commission of India on Wednesday set the campaign expenses limit per candidate at between Rs 20 lakh and Rs 28 lakh in the five states where assembly polls will be held laster this year.....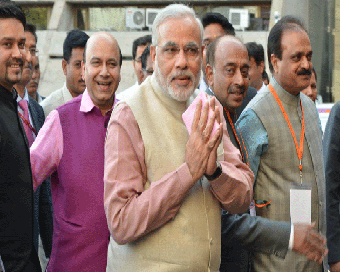 BJP National Executive Meet In Delhi From Friday
A two-day meeting of the BJP National Executive will begin here on Friday, nearly a month ahead of the start of assembly elections in five states. ....
Kejriwal Attacks BJP Over Garbage Mess
Delhi Chief Minister Arvind Kejriwal on Monday accused BJP Councillors of siphoning off funds meant for municipal employees in the capital.....
Didn't Name Any Religion Or Community: Sakshi Maharaj Defends Remarks
BJP MP Sakshi Maharaj, who was summoned by the Election Commission for his controversial statements on population, said on Wednesday that his remarks were made at a meeting called by religious leaders and he had not taken the name of any religion.....
Jharkhand CM Faces Criticism Within His Own Party
It seems that all is not well in the Jharkhand BJP, particularly in Raghubar Das's government, as voices are being raised by senior leaders and ministers from within the party against the functioning of his government.....
Samajwadi Party Leader Ashok Pradhan Joins BJP
Samajwadi Party National General Secretary Ashok Pradhan on Friday joined the Bharatiya Janata Party (BJP) along with a number of his supporters at the BJP central office here.....
BJP Releases Second List Of Candidates For Goa
The Bharatiya Janata Party (BJP) on Monday announced its second list of seven candidates for the Goa assembly elections to be held on February 4.....
Two-day Delhi Assembly Session Starts On Stormy Note
The Delhi Assembly on Tuesday witnessed vociferous protests by the BJP over the two-day session not starting with newly-appointed Lt. Governor Anil Baijal's address.....
Have Nothing Against SRK: Kin Of Deceased
Suffocation due to crowd led to the death of a social activist who collapsed during Bollywood superstar Shah Rukh Khan's train stopover at Vadodara railway station, confirmed the deceased's family members, who also said they have "nothing against" the actor.....
Congress Demands Apology From Katiyar
Women Congress workers on Friday staged a protest outside the BJP office here demanding an apology from its leader Vinay Katiyar for his "sexist" remarks against Priyanka Gandhi Vadra.....