Tag: Beijing
Chinese Daily Says US Risks 'war' Over South China Sea
A leading Chinese daily on Friday warned the US of a "large-scale war" if it tries to block Beijing's access to the South China Sea islands.....
Modi, Xi Talk; Want Deep Ties
Indian Prime Minister Narendra Modi and Chinese President Xi Jinping on Tuesday talked over telephone and pledged to deepen bilateral ties and promote mutual trust.....
US Warns Beijing For Militarising South China Sea
The US has warned China that there will be consequences for its growing militarisation in the South China Sea, the media reported.....
China Confirms To US Its Dual-track Approach To Deal With N.Korea
China endorsed to the US its "dual-track" approach to deal with North Korea, promoting denuclearization and establishment of a peace mechanism on the peninsula, the Foreign Ministry said on Sunday.....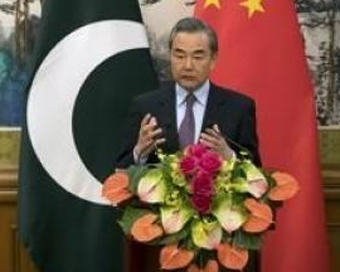 Will Support Pakistan's Territorial Integrity: China
China on Tuesday told the international community not to target Pakistan following the Pulwama suicide bombing in Kashmir and said it will stand by Islamabad during testing times and firmly support its sovereignty and territorial integrity.....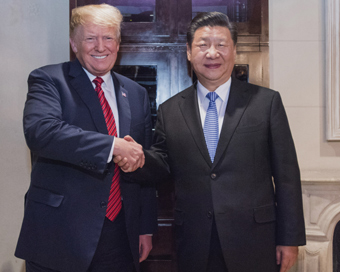 China Won't Succumb To US Tariff Pressure: Beijing
Responding to the US threat of imposing additional tariffs on Chinese products, China here on Thursday urged Washington to heed the voices of resistance to unilateralism, protectionism and bullying from the international community.....
India Should Not Comment On Chinese Construction In Doklam: Beijing
China on Friday said Doklam is Chinese territory and India has no business to comment if it builds infrastructure in the region. ....
Xi Underlines Clean, Upright Political Ecology
Chinese President Xi Jinping on Saturday underlined a "clean and upright" political ecology and urged leading officials to uphold rule of law.....
Trump Hits China With Tariffs Worth $60bn
US President Donald Trump embarked on the sharpest trade confrontation with China, moving toward imposing tariffs worth $60 billion in Chinese goods and limiting Beijings freedom to invest America's technology industry, media reports said.....
Don't Know About Kim Jong-un's Beijing Visit: S.Korea
The South Korean government on Tuesday said that it does not know if North Korea's Kim Jong-un was visiting Beijing. ....