Tag: Ananth Kumar
Congress, Left, TMC Walk Out Of Lok Sabha
The Congress, Left and Trinamool Congress walked out of the Lok Sabha on Friday over the issue of hike in cooking gas price.....
Lok Sabha Adjourned For Day Amid Opposition Ruckus
Persistent opposition ruckus on Thursday forced Lok Sabha Speaker Sumitra Mahajan to adjourn the House for the day, after two brief adjournments earlier.....
Mayawati's Resignation From Rajya Sabha Accepted
Chairman Hamid Ansari accepted the resignation of BSP supremo Mayawati's from the Rajya Sabha , a senior official of the Upper House said.....
Minister Asks All Parties To Allow Triple Talaq Bill To Pass
Union Parliamentary Affairs Minister Ananth Kumar on Wednesday asked all opposition parties to help pass the Triple Talaq Bill in Parliament on Wednesday.....
Pre-Budget Session All-party Meetings On Sunday
Two all-party meetings will be held on Sunday, ahead of the Budget Session of Parliament which is due to start on Monday, government sources said on Saturday.....
Debate During Budget Session, PM Tells Parties
Prime Minister Narendra Modi on Monday expressed hope that the budget session of Parliament will see peaceful debates despite political differences.....
Jaitley Introduces Note Ban Bill In Lok Sabha Amid TMC Opposition
Finance Minister Arun Jaitley on Friday introduced a bill on demonetisation in the Lok Sabha to formally make the banning of Rs 500 and Rs 1,000 notes a law.....
Congress Doing Injustice To Muslim Women: Ananth Kumar
Parliamentary Affairs Ministers Ananth Kumar on Friday accused the Congress of doing injustice to the Muslim women by opposing the Triple Talaq Bill saying that they should learn from the past and let the legislation pass.....
Triple Talaq Bill Pushed To Budget Session, Ordinance Unlikely
With the Rajya Sabha adjourned sine die on Friday, the controversial triple talaq bill was pushed to the budget session that begins on January 29. ....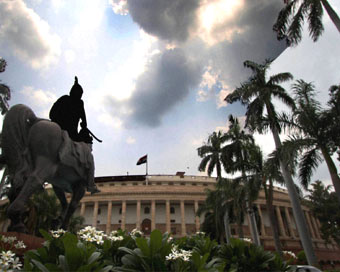 Monsoon Session Of Parliament From July 18 To August 10
The monsoon session of Parliament will be held from July 18 to August 10, Parliamentary Affairs Minister Ananth Kumar said here on Monday.....