Tag: Amitabh Bachchan
Amitabh Bachchan Sends Notice To Kumar Vishwas, AAP Leader Offers To Pay Rs 32
Bollywood megastar Amitabh Bachchan sent a notice to Aam Aadmi Party (AAP) leader and poet Kumar Vishwas for using a poem by his late father, Harivansh Rai Bachchan, in a tribute video and Kumar Vishwas offered him to pay Rs.32. ....
B-Town Wishes Happy New Year
Make 2017 count: B-Town wishes New Year to friends, fans....
After PM's Graveyard Jab, Comes Akhilesh's 'Gujarat Ass' Punch
Uttar Pradesh Chief Minister Akhilesh Yadav on Monday took a dig at Prime Minister Narendra Modi by asking Amitabh Bachchan to stop promoting "donkeys of Gujarat" -- a sarcastic reference to a tourism promo on wild asses that features the superstar.....
In UP, Political Discourse Gets Distasteful
"Gujarat ke gadhe" (donkeys of Gujarat), "Loktantra ke aatankwaadi" (terrorists of democracy), "Behenji Sampatti Party", "Negative Dalit Man"... Political discourse amid ongoing assembly elections in Uttar Pradesh has touched a new low. ....
From Angry Young Man To Angry Father: Vinod Khanna's Cinematic Voyage
He came into prominence playing an angry young man in a 1970s classic and one of his last major appearances was as an angry implacable father in a 2010 blockbuster, but whatever role Vinod Khanna played-good, bad, or even supporting-he ended up making his presence felt. Can you think of any other Bollywood hero who won applause for beating up Amitabh Bachchan on screen?....
Megastar Amitabh Bachchan Gets 30 Million Twitter Followers
Megastar Amitabh Bachchan, the most followed Indian actor on Twitter, now has a fan following of 30 million on the micro-blogging platform.....
Anushka, Virat Kohli Hold Second, Star-studded Reception In Mumbai
After hosting their first reception in Delhi, high-profile couple Virat Kohli and Anushka Sharma hosted their second reception attended by stars from both the sporting world and the film world here on Tuesday.....
Big B Threatens To Quit Twitter After Losing Followers
Megastar Amitabh Bachchan has threatened to quit Twitter, accusing the micro-blogging website of reducing his followers. ....
Jaya-Amitabh Have Combined Assets Worth Rs 1,000 Cr : Affidavit
Actress-turned-politician Jaya Bachchan has declared movable and immovable assets worth Rs 493 crore in her affidavit to the Election Commission (EC).....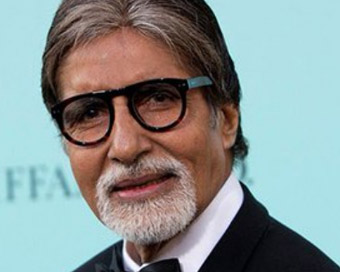 Speak More Hindi, Amitabh Urges Bollywood's New Gen
Megastar Amitabh Bachchan, known for his command over Hindi, hopes the new generation of Bollywood actors use the language more often instead of being highly Westernised.....