Tag: wrestling
Baba Ramdev Dazzles In Promotional PWL Bout
Yoga guru Baba Ramdev displayed his wrestling skills as he went head-to-head with 2008 Olympic silver medalist Andriy Stadnik in a promotional bout of the Patanjali Powervita Pro Wrestling League (PWL) here on Wednesday.....
Mumbai Deny PWL Withdrawal
Pro Wrestling League (PWL) franchise Mumbai Maharathi on Thursday denied media reports that they have decided to withdraw from the tournament following disagreement with the tournament's organisers.....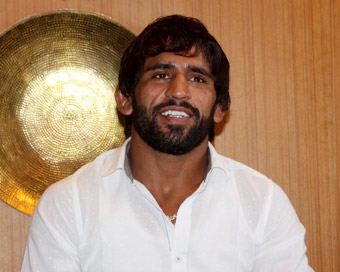 Wrestling: Punia First Indian To Be Ranked World No.1
Bajrang Punia, who got a silver medal in last months World Championships at Budapest, is ranked No.1 in the world in his weight category, according to the ranking chart released by the United World Wrestling on Saturday.....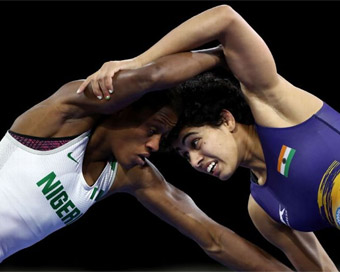 Pooja Takes Bronze At Wrestling Worlds
Pooja Dhanda joined the elite Indian company of women grapplers to take the bronze medal at the Worls Championships here on Thursday.....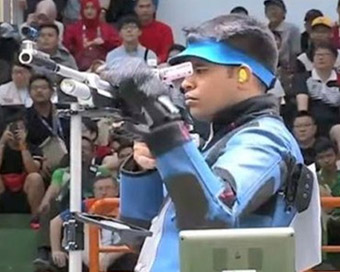 Asiad 2018: Shooter Deepak Kumar Bags Silver In 10m Air Rifle
Shooter Deepak Kumar handed India it's third medal at the ongoing 2018 Asian Games after he clinched silver in the Mens 10m Air Rifle category here on Monday.....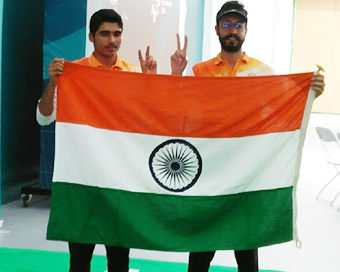 Saurabh Wins Gold, Abhishek Gets Bronze In Men's 10m Air Pistol
Indian shooters Saurabh Chaudhary and Abhishek Verma bagged the gold and bronze medals respectively in the Men's 10 metre Air Pistol final in the ongoing 2018 Asian Games here on Tuesday.....
Vijender, Satpal Felicitated At DSJA Annual Awards
Beijing Olympics bronze medallist boxer Vijender Singh was on Thursday adjudged the Sportsperson of the Year by the Delhi Sports Journalists Association (DSJA), which celebrated its annual awards function here. ....
'Dangal' Nears 400 Crore Mark
What is Dangal up to? It is breaking all records and setting new benchmarks. Aamir Khan's sports drama film "Dangal" is running successfully in theatres and has raked in over Rs 385 crore at the box office.....
Wrestler Sakshi At 5th Spot, Tomar 7th In World Rankings
Olympic bronze medallist Sakshi Malik and Asia No. 1 Sandeep Tomar have entered the top 10 in their respective categories in the world rankings of the United World Wrestling (UWW).....
Sakshi Malik Storms Into Asian Championships Final
Rio Olympic Games bronze medallist Sakshi Malik assured herself of a silver medal in the ongoing Asian Wrestling Championship after the grappler entered the finals of the 60 kg weight category here on Friday.....