Tag: western
20 Killed In Pakistan's Market Blast
At least 20 people were killed and over 50 were injured on early Saturday when a powerful explosion ripped through a crowded market in Kurram agency, Pakistans northwestern tribal region, officials said.....
'Hindu Exodus' Not An Election Issue In Kairana
The so-called "Hindu exodus" from Kairana in western Uttar Pradesh, which had grabbed headlines, is a non-issue in the electoral battle here.....
Modi A Political Migrant, Says Akhilesh
Hitting out at the BJP for raking up a "non-issue" of migration from western Uttar Pradesh, Chief Minister Akhilesh Yadav said that Prime Minister Narendra Modi was in fact a "real migrant" as he was from Gujarat and had contested the Lok Sabha polls from Varanasi.....
Brisk Voting In UP, Agra Logs Maximum Turnout
Taj city Agra led the voting percentage in the first phase of polling in Uttar Pradesh in the first four hours as 28 per cent of the electorate cast their votes, an official said on Saturday.....
Moderate Voting In First Phase Of UP Election, Over 63% Turnout
Polling for the phase 1 of the Uttar Pradesh election came to an end. 73 constituencies in 15 districts went to the polls in western part of the state on saturday. ....
22 Killed In Nepal Bus Accident
At least 22 people were killed and 40 others injured when a passenger bus plunged down some 200 meters from a highway in Nepal's far-western Jajarkot district on Thursday.....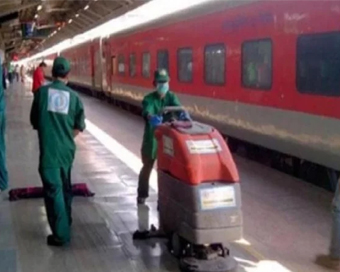 Jaipur, Jodhpur, Durgapura Cleanest Stations: Railway Survey
Three railway stations in Rajasthan -- Jaipur, Jodhpur and Durgapura -- have topped the list of the Railways' cleanliness survey unveiled on Wednesday by Railway Minister Piyush Goyal here.....
25 Killed In Kabul Blasts
At least 25 people were killed and several others wounded in two suicide blasts near a government office along a busy road in the western part of Kabul on Tuesday.....
Icy Winds Add To The Winter Bite In Uttar Pradesh
Icy winds at many places in Uttar Pradesh intensified the cold wave in the state on Wednesday, with heavy snowfall in many parts of neighbouring Uttarakhand also contributing to the fall in mercury.....
Tiger Population Booms In India's Terai Region
Projecting a bright picture of tiger conservation, the number of big cats in the Terai region has grown significantly with at least 71 new adults roaring, say reports from the latest Phase-IV of monitoring.....