Tag: threat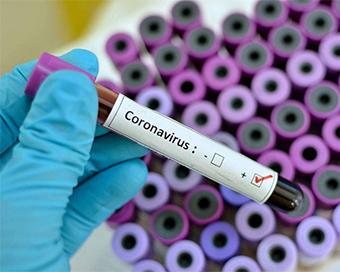 'Exaggerated': 60% Indians' View Of Coronavirus Threat
An unprecedented 60 per cent of Indians believe that the coronavirus threat is hyperbolized, even as the number of confirmed cases in the country surged past 450 on Monday.....
Not Filing Complaint Against Anybody: Sunil Grover
Popular comedian Sunil Grover said on Monday he is not filing a complaint against anybody and all reports related to it are 'fake'.....
FIR Filed Against Goa Sports Minister For Threatening Villager
A First Information Report (FIR) has been filed against Goa Sports Minister Ramesh Tawadkar for allegedly threatening a person at Cotiago village. ....
US Deploys Radar In Response To N.Korea Missile Threat
The Pentagon has deployed high-tech radar to keep watch for a potential North Korean long-range-missile launch in the coming months, according to a US defence official.....
Nationwide Initiative To Create Awareness About Threatened Python Species
When "Kaa" the hypnotic, yellowish Indian Rock Python hisses and casts a spell on Mowgli in "The Jungle Book", it's a hair-raising experience for the audience. In real life though, the python faces a serious existential threat, but a nationwide initiative called "Living with Pythons" by Goa-based herpetologist and wildlife photographer Nirmal Kulkarni could change things significantly.....
Free Expression In Varsities Under Threat: Manmohan Singh
Former Prime Minister Manmohan Singh on Friday said independent thinking and free expression at Indian universities were under "threat" in the wake of unrests at the University of Hyderabad (HCU) and Delhi's Jawaharlal Nehru University (JNU).....
SP Legislator Alleges Threat To Life From Akhilesh Yadav
Samajwadi Party (SP) legislator from Gyanpur in Bhadohi Vijay Mishra dropped a bombshell on Monday alleging that Chief Minister Akhilesh Yadav and party national general secretary Ram Gopal Yadav could get him eliminated.....
Security Beefed Up In Delhi Ahead Of Republic Day
Security has been beefed up ahead of Republic Day with thousands of policemen and anti-aircraft guns deployed at strategic points in view of intelligence inputs about threats from terror groups to some important installations in the city. ....
Over 50% Cybercrime Victims Fail To Recover Lost Money
More than half (52 per cent) of internet users globally who have lost their money at the hands of cybercriminals have only got some, or none, of their stolen funds back, a new research from Kaspersky Lab revealed on Friday.....
American Flight Lands After Bomb Scare
An American Airlines flight made an emergency landing at an airport in Knoxville in Tennessee following a bomb scare, the media reported on Wednesday.....