Tag: threat
Kejriwal Receives Death Threat
Delhi Chief Minister Arvind Kejriwal received a death threat on his official e-mail ID on Wednesday, officials said.....
'Padmavati' Row Intensifies; Karni Sena Threatens To Cut Deepika's Nose
The row over filmmaker Sanjay Leela Bhansali's "Padmavati" intensified on Thursday after a Shri Rajput Karni Sena member threatened to chop off actress Deepika Padukone's nose amid a call for "Bharat Bandh" (shutdown) on December 1 when the film is slated for pan-India release. ....
BJP Threatening Journalists In Gujarat, Congress Tells EC
The Congress on Wednesday alleged that the Bharatiya Janata Party (BJP) was threatening journalists in Gujarat for airing Congress President-elect Rahul Gandhis interview, and urged the Election Commission (EC) to take notice of it.....
Maharashtra CM Faces Serious Threats To Life: Prakash Ambedkar
Maharashtra Chief Minister Devendra Fadnavis faces serious threats to his life from certain pro-Hindutva elements, Bharipa Bahujan Mahasangh President Prakash Ambedkar claimed on Wednesday. ....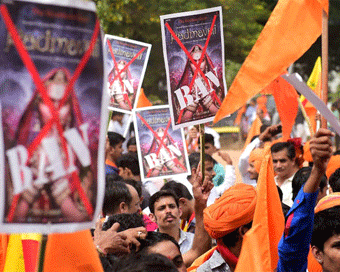 Police Arrest Chittorgarh Karni Sena Chief After 'jauhar' Threat
Police have arrested the Chittorgarh unit chief of the Shri Rajput Karni Sena, after its spokesperson declared that over 1,900 women of the community are "ready" to commit "jauhar" or mass immolation as part of protests over the release of Sanjay Leela Bhansali's "Padmaavat".....
Taliban Threatens More Violence After US Rejects Talks
The Taliban on Tuesday threatened the US with more violence and bloodshed after Washington ruled out peace talks with the rebels for unleashing a wave of carnage on Afghanistan. ....
Modi Withdraws Order Threatening Scribes Over Fake News
After widespread criticism, Prime Minister Narendra Modi on Tuesday withdrew within hours his government's order that threatened to take away the accreditation of journalists found propagating fake news.....
North Korea Threatens To Cancel Trump-Kim Talks
North Korea on Wednesday threatened to abandon planned talks between leader Kim Jong-un and US President Donald Trump in June if Washington continued to insist on pushing it "into a corner" on nuclear disarmament, media reports said.....
N.Korea Threatens To Walk Away From US Summit
North Korea will reconsider the planned summit with the US if Washington sticks to "unlawful and outrageous acts," Pyongyang's Vice Foreign Minister said on Thursday. ....
London Tube Station Evacuated After Bomb Threat
A London tube station was evacuated on Friday following reports of a man claiming to have a bomb.....