Tag: threat
PM 'threatening' The Country And Its People: Congress
Congress on Tuesday charged Prime Minister Narendra Modi with "trying to threaten" the country and its people when he gives speeches.....
Modi Invokes Pakistan Threat To Seek Votes For Akali-BJP Alliance
Prime Minister Narendra Modi on Sunday invoked threats from Pakistan to urge people to vote for the Akali Dal-BJP alliance in Punjab to provide a strong government in the border state. ....
Arrest Those Threatening Gurmehar Kaur, DCW Chief Tells Police
Delhi Commission for Women (DCW) chief Swati Maliwal on Monday wrote to Delhi Police Commissioner Amulya Patnaik, seeking registration of a case against persons threatening Kargil war martyr's daughter Gurmehar Kaur and their arrest.....
Taj Security Up After Reported Threat From IS
Police on Friday patrolled the Yamuna river bank here and mounted extra vigil after a website threatened to target the Taj Mahal, the 17th century monument of love.....
Terrorism Sponsored By Pakistan Threat To India, Entire Humanity: Rajnath
Union Home Minister Rajnath Singh on Friday termed terrorism sponsored by neighbouring Pakistan not only a threat to India but to entire humanity, an official statement said.....
China 'seriously Concerned' About North Korea
China is seriously concerned about nuclear threats after North Korea said they would test missiles regularly and warned of a pre-emptive nuclear strike against the US in case they suspected an attack.....
China Bigger Threat Than Pakistan, Ban Chinese Products: Mulayam
Samajwadi Party leader Mulayam Singh Yadav on Wednesday sought the government's response on the military stand-off at Doklam. He Describing China as a "bigger threat to India than Pakistan".....
N.Korea Threatens US, S.Korea Over Naval Drills
North Korea on Thursday strongly condemned naval manoeuvers that the US is presently carrying out with South Korea on the peninsula, and threatened to launch an "unimaginable strike" against them.....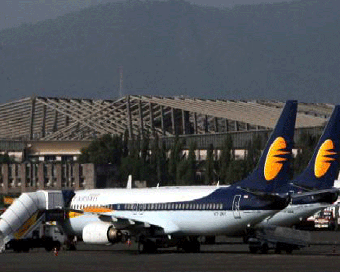 Mumbai-Delhi Jet Airways Flight Diverted To Ahmedabad Over 'threat Letter'
A Jet Airways Mumbai-New Delhi flight was diverted to Ahmedabad due to "security issues" after a letter warning about a hijack and bomb threat was discovered in the plane's toilet. The person who left the note has been identified.....
Mumbai Shiv Sena Leader Stabbed To Death
Prominent Shiv Sena leader and former municipal corporator Ashok Sawant has been stabbed to death outside his home here, an official said.....