Tag: temple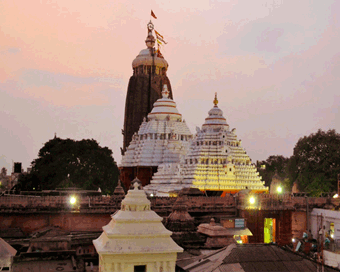 Thousands Throng Jagannath Temple
Odisha Chief Minister Naveen Patnaik was among the thousands to visit Sri Jagannath temple in Puri on Sunday to take the blessings of deities on new year day.....
Gujarat CM Says Ram Temple On Party's Agenda
Gujarat Chief Minister Vijay Rupani on Wednesday asserted that construction of Ram Temple in Ayodhya was on the agenda of the BJP, a day after the party's Uttar Pradesh unit chief Keshav Prasad Maurya spoke of the temple but retracted later.....
Congress Moves EC, Demands Stern Action Against BJP
The Congress on Thursday moved the Election Commission alleging that BJP leaders Keshav Prasad Maurya and Subramanian Swamy had made remarks amounting to soliciting votes in the name of religion and demanded "stern action" against the party.....
Telangana CM Fulfils Rs 5 Crore Vow At Tirumala Temple
Telangana Chief Minister K. Chandrasekhar Rao on Wednesday offered gold ornaments worth Rs 5 crore to Lord Venkateswara, fulfilling a vow he had taken during the movement for a separate state.....
Clash Of Titans In Varanasi: Modi Vs Rahul-Akhilesh Road Show
Prime Minister Narendra Modi is expected to hold a mega road show in Varanasi on Saturday, the day Uttar Pradesh Chief Minister Akhilesh Yadav and Congress Vice President Rahul Gandhi are also scheduled to address a similar event in the Prime Minister's Lok Sabha constituency.....
Make Law To Build Ayodhya Temple: VHP
Vishwa Hindu Parishad (VHP) leader Pravin Togadia on Tuesday demanded a law to build the Ram temple at the disputed site at Ayodhya in Uttar Pradesh.....
Allow Us To Build Ram Temple, Swamy Tells Muslims
BJP MP Subramanian Swamy on Sunday urged Muslims to hand over their part of the land in Ayodhya to help the construction of a grand Ram temple there.....
SC Refuses To Hold Early Hearing On Ayodhya
The Supreme Court on Friday refused to hold an early hearing on petitions challenging the 2010 Allahabad High Court verdict on the title suit of the disputed Ramjanmabhoomi-Babri Masjid site.....
Modi Offer Prayers In Odisha's Lingaraj Temple
Prime Minister Narendra Modi on Sunday offered prayers at the 11th century Lingaraj Temple here, officials said.....
Don't Want Conflict In Muslim Society Over Triple Talaq: Modi
Dubbing triple talaq a "bad social practice", Prime Minister Narendra Modi on Sunday said such practices can be ended by social awakening but stressed that the BJP didn't want a conflict in the society for this.....