Tag: sworn
Modi Congratulates Parrikar On Becoming Goa CM
Prime Minister Narendra Modi on Tuesday congratulated Manohar Parrikar who became the Chief Minister of Goa for the fourth time. ....
Manohar Parrikar Takes Over As Goa CM For Fourth Time
BJP leader Manohar Parrikar was sworn in Chief Minister of Goa for the fourth time on Tuesday.....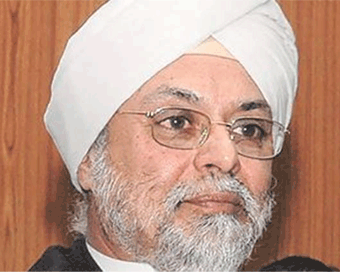 Justice Khehar Sworn In As Chief Justice Of India
Justice Jagdish Singh Khehar was on Wednesday sworn in as the Chief Justice of India (CJI).....
Trump Become 45th President Of The US
Donald J. Trump on Friday was sworn in as the 45th President of the US. He was administered the oath of office by Supreme Court Chief Justice John Roberts.....
Shurhozelie Sworn In As Nagaland Chief Minister
Naga People's Front (NPF) supremo Shurhozelie Liezietsu was on Wednesday sworn in as the 17th Chief Minister of Nagaland following the resignation of T.R. Zeliang.....
New Deputy UN Chief To Be Sworn In On Tuesday
Amina Mohammed, the new deputy UN secretary-general, will formally take office on Tuesday, UN spokesman Stephane Dujarric said.....
Adityanath To Be Sworn In As UP CM On Sunday
Uttar Pradesh Chief Minister-designate Yogi Adityanath will be sworn in on Sunday afternoon, Union Information and Broadcasting Minister M. Venkaiah Naidu said here on Saturday. ....
Mayors Of UP Civic Bodies Sworn In
The newly-elected mayors of Ghaziabad, Ayodhya and Meerut were sworn in at different ceremonies across Uttar Pradesh on Tuesday.....
Jai Ram Thakur Takes Oath As Himachal CM
Jai Ram Thakur on Wednesday was sworn in as the Himachal Pradesh Chief Minister at a ceremony here attended by Prime Minister Narendra Modi and BJP President Amit Shah among others.....
Neiphiu Rio Sworn In As Nagaland CM
Nationalist Democratic Progressive Party (NDPP) leader Neiphiu Rio was on Thursday sworn in as the Chief Minister of Nagaland. This is Rio's fourth term.....