Tag: social media
'Whistle-blower' Trooper's Wife Meets BSF DG, Seeks Disposal Of Inquiry
The wife of BSF trooper Tej Bahadur Yadav on Monday met the force's Director General K.K. Sharma here and urged him to expedite the departmental enquiry initiated against her husband whose social media video over "sub-standard" food triggered controversy last month.....
BSF Trooper Tej Bahadur Yadav's Family Moves Delhi HC
The family of BSF trooper Tej Bahadur Yadav, whose social media video clip on "substandard food" dished out to the men in the force triggered an uproar, on Thursday filed a habeas corpus petition in the Delhi High Court.....
Who's Polluting Young Girl's Mind: Rijiju On DU Student
Minister of State for Home Kiren Rijiju on Monday wondered who was "polluting" the mind of a Delhi University student campaigning on social media against the ABVP. ....
Kashmir Colleges, Universities To Remain Shut On Tuesday
Colleges, universities and other higher education institutes in Kashmir will remain closed on Tuesday following the unprecedented protests by students across the valley, authorities said.....
BJP Leader Files Plaint Against Online Abusers
BJP leader Shazia Ilmi on Tuesday filed a police complaint against persons who, she said, followed AAP leadership online and had posted obscene remarks against her on social media.....
Megastar Amitabh Bachchan Gets 30 Million Twitter Followers
Megastar Amitabh Bachchan, the most followed Indian actor on Twitter, now has a fan following of 30 million on the micro-blogging platform.....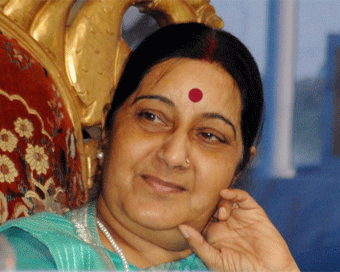 Sushma To Aid Of Indians Abroad Who Lost Passports
External Affairs Minister Sushma Swaraj on Saturday again took to social media, this time to help Indians abroad who lost their passports.....
Facebook Data Breach: Where Is Mark Zuckerberg?
With Facebook getting mired in its biggest-ever controversy following a massive data breach, everyone is asking one question: Where is its CEO Mark Zuckerberg?....
Bug Found, Twitter Asks 336mn Users To Change Password
It is time to change your Twitter password now as the micro-blogging platform has asked its 336 million users to do so across its services after it discovered a bug that stored passwords in plain text in an internal system.....
Modi Shares Fitness Video On Social Media
Prime Minister Narendra Modi on Wednesday shared a fitness video after he was nominated in an online fitness challenge by Indian Cricket Captain Virat Kohli....