Tag: smartphone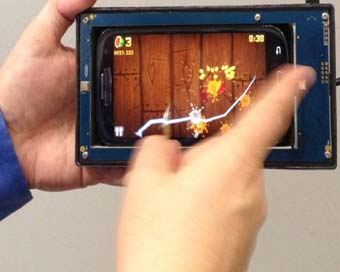 Controlling Smartphones With Touchless Gestures
Cellphones and other devices could soon be controlled with touchless gestures and charge themselves using ambient light thanks to new LED displays that can both emit and detect light.....
Bingo Technologies Launches New VR Box
Consumer electronics accessories player Bingo Technologies on Monday launched its first smart virtual reality (VR) Box "Bingo V-200" at Rs 649.....
Indian Smartphone Market Grew 5.2% In 2016: IDC
India registered 109.1 million units of smartphone shipments with a marginal 5.2 per cent annual growth in 2016, market research firm International Data Corporation (IDC) said on Monday. Chinese players led the pack.....
Lenovo MBG Second Favourite Smartphone Brand In India: IDC
Lenovo Mobile Business Group (MBG) -- that comprises Lenovo and Moto-branded devices -- has emerged as the number two smartphone brand in India with 8.9 per cent and 9.8 per cent market share by volume and value, respectively, a new report revealed on Wednesday.....
ZTE To Launch 'Gigabit' Phone At MWC 2017
ZTE to launch, Gigabit, phone, at MWC 2017, Beijing, Chinese smartphone, ZTE is set to, launch the "Gigabit" phone, Mobile World Congress, in Barcelona, 5G revolution, advancing cloudification, Internet of Everything, Axon 7, android Nougat, mobile phones, latest news, news in english, Top news in english, english top news, saharasamay news, ....
LG Launches India's First Smartphone With Panic Button '112'
In line with the government's initiative to make the "Panic Button" service on mobile phones mandatory from March 2017, South Korean electronics conglomerate LG on Wednesday launched "K10 2017" smartphone that comes with the panic button service "112".....
'Freedom 251' Fraud: Police Hunt For Other Directors
After arresting Mohit Goel, Director of Noida-based Ringing Bells Pvt Ltd, police said they were searching for four more directors of the company that launched the world's cheapest smarphone.....
Gionee Launches New A-series Selfie-focused Smartphones
Chinese smartphone maker Gionee on Monday launched a new line up of A series smartphones -- A1 Plus and A1 -- at the Mobile World Congress here....
Seven Jharkhand Students Caught Writing Exams In Under-construction House
Illustrative of how blatantly unscrupulous officials collude with parents to let their wards use unfair means in examinations, seven youngsters were found writing their exams in an under-construction house away from their exam centre here.....
Intex Launches Aqua Strong 5.1+ 4G Device
Expanding 4G-Volte portfolio, Intex Technologies on Friday launched Aqua Strong 5.1+ smartphone equipped with a range of Value Added Services (VAS) for Rs 5,490.....