Tag: poll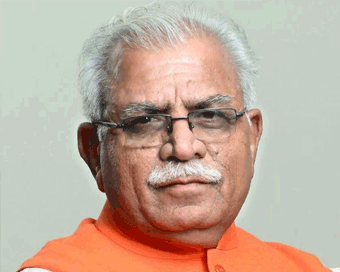 Haryana CM Lauds Call For Simultaneous Lok Sabha, Assembly Polls
Haryana Chief Minister Manohar Lal Khattar on Sunday lauded the proposal of Prime Minister Narendra Modi to hold simultaneous elections to the Lok Sabha and state assemblies.....
Over Half Americans Sceptical About Trump's Ability To Handle US Presidential Duties: Poll
As Donald Trump prepares to take oath as US President on January 20, over half of Americans are sceptical about his ability to handle an international crisis, to use military force wisely or to prevent major scandals in his administration, according to a new poll released on Monday.....
Elections For 5 States Begin On Feb 4, Counting On Mar 11
Election commission announces polling dates for assembly elections in 5 states. Polling starting from Feb 4 2017, counting of polls for all 5 states will take place on March 11th.....
SC Refuses 'urgent' Plea On Deferring Budget
The Supreme Court on Friday refused an urgent hearing on a plea seeking that the Union Budget for 2017-18 be deferred till April.....
Shivpal Meets Akhilesh Yadav
In an apparent last minute attempt to end the internal war in the Samajwadi Party, party leader Shivpal Yadav on Friday met Uttar Pradesh Chief Minister Akhilesh Yadav.....
Wrongly Accused, Have Nothing Against Akhilesh: Amar Singh
Caught in the cross-fire of a raging war between Samajwadi Party supremo Mulayam Singh Yadav and his son Akhilesh Yadav, Amar Singh on Friday said he was not against the Chief Minister and was being blamed for no rhyme or reason.....
BSP Releases Third List Of 100 Candidates For UP Polls
The BSP on Saturday released its third list of 100 candidates for the Uttar Pradesh assembly elections, scheduled to be held in seven phases between February 11 and March 8.....
Manmohan Singh Releases Congress's Punjab Manifesto
Manmohan Singh releases Punjab Congress Manifesto for upcoming polls.....
No Dispute Between Akhilesh And Me: Mulayam
Samajwadi Party patriarch Mulayam Singh Yadav on Monday insisted there were no differences between him and his son and Uttar Pradesh Chief Minister Akhilesh Yadav.....
Will SP's 'cycle' Be Frozen?
With both factions of the Samajwadi Party demanding the 'cycle', it increasingly appears that the election symbol of 25 long years may get frozen.....