Tag: people were killed
20 Killed In Pakistan's Market Blast
At least 20 people were killed and over 50 were injured on early Saturday when a powerful explosion ripped through a crowded market in Kurram agency, Pakistans northwestern tribal region, officials said.....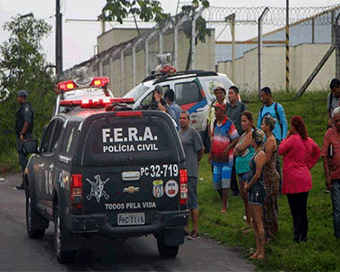 Third Brazilian Prison Riot In A Week Leaves 4 Dead
Four people were killed in a riot at a jail in Brazil on Sunday, the nation's third deadly prison uprising in a week.....
Over 100 Killed As Taliban Hits Kabul Again
At least 40 people were killed and 140 others injured on Saturday when a Taliban suicide bomber exploded an ambulance laden with explosives near Sidarat Square in central Kabul where several government offices are located.....
Over 50 Killed In Brazil Prison Riot
More than 50 people were killed in a bloody prison riot in the Amazon jungle city of Manaus, a Brazilian security official told the Globo TV network on Monday.....
25 Killed In Kabul Blasts
At least 25 people were killed and several others wounded in two suicide blasts near a government office along a busy road in the western part of Kabul on Tuesday.....
Suicide Bomber Kills 20 In Kabul
At least 20 people were killed on Tuesday when a suicide bomber detonated his explosives in the parking lot of Afghanistan's Supreme Court building here, officials said.....
16 Dead As Blast Hits Lahore Protesters
At least 16 persons were killed and over 50 others, including media persons, were injured in a strong explosion near the Punjab provincial assembly here on Monday.....
4 Killed In Indonesia Floods, Landslides
At least four people were killed and thousands others displaced due to floods and landslides in Indonesia's West Sumatra province, a disaster agency official said on Saturday.....
Blast, Firings Claim 8 Lives In Pakistan
At least eight people were killed and five others injured in three separate incidents of bomb explosions and firing in Pakistan on Monday, local Urdu media reported.....
9 Dead As Pakistan-Afghanistan Border Tension Escalates
At least nine people were killed and dozens injured when Afghan border forces fired at a census team in Pakistan's Balochistan on Friday -- a day after the Afghan President turned down invitations to visit Islamabad. ....