Tag: oil
CRPF Refuses To Give Details On Pellet Guns' Use In Kashmir
In the wake of death of over 90 persons and injuries to over 12,000 from use of pellet guns during the unrest in Jammu and Kashmir, the CRPF has refused to give, in response to an RTI query, details of the number of such weapons and ammunition used.....
ONGC Staffers To Get 'Khadi Bonus'
Oil and Natural Gas Corporation Ltd.(ONGC) employees will now get their annual cash bonuses in the form of Khadi vouchers for buying Khadi garments, a top official said here on Saturday.....
Two Vessels Collide Near TN Port, Providential Escape For Crew
Two ships ferrying petroleum products collided outside Tamil Nadu's Kamarajar Port on Saturday, but there was no major damage to the ships or oil spill, authorities said.....
Tamil Nadu Police Register Cases Against Tankers Over Oil Spill
Tamil Nadu police on Friday registered cases against the management of two tankers that collided last week leading to a massive oil spill along the coast, that has affected marine life in the area.....
Congress Sticks To Demand For Apology For 'raincoat' Remark
The Congress on Friday continued its attack on Prime Minister Narendra Modi for his "raincoat" jibe, and demanded that he apologise to his predecessor Manmohan Singh for insulting the office of Prime Minister.....
Kashmiri Youth Not Afraid Of Death, Says Farooq Abdullah
Kashmiri youth picked up arms "for a cause" and they can not be intimidated with death threats, former Union Minister and state Chief Minister Farooq Abdullah said on Friday.....
Threat Of Violence Is RSS' Only Weapon: Yechury
CPI-M leader Sitaram Yechury on Tuesday flayed the Modi government and the Sangh Parivar over the death and rape threats to Delhi University student Gurmehar Kaur for taking on the ABVP.....
Protesters Clash With Security Forces In Kashmir Valley
Clashes erupted in parts of the Kashmir Valley after the congregational Friday prayers as protesters assembled outside mosques shouting pro-Islamic and "freedom" slogans.....
16 More Death, Toll Reaches190 In Bahawalpur Oil Tanker Blast
The death toll from an oil tanker explosion in central Pakistan has risen to 190, Sixteen more people have died in hospital following Bahabalpur oil tanker explosion on a main highway in Pakistan. hospital and government officials said ....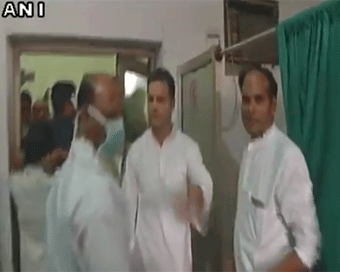 Rahul In Rae Bareli; Meets Kin Of NTPC Blast Victims
Congress Vice President Rahul Gandhi on Thursday reached Rae Bareli in Uttar Pradesh where over 20 persons have died in a boiler blast at a unit of National Thermal Power Corporation (NTPC).....