Tag: note ban
Mamata Flays Trinamool Leader's Arrest, BJP Office Attacked
West Bengal Chief Minister Mamata Banerjee on Tuesday dubbed the arrest of Trinamool Congress MP Sudip Bandyopadhyay as "vendetta politics" by the Centre as her supporters attacked the BJP office here, leaving some 15 people injured.....
PM Thanks Diaspora For 'backing' Note Ban
Terming the political backlash against demonetisation as unfortunate, Prime Minister Narendra Modi on Sunday thanked the Indian diaspora for their support to the note ban to curb black money and fight corruption.....
Note Ban Hit India's Industrial Production, Says Jaitley
The contraction in industrial production in December as per the latest data is the fallout of demonetisation and expansion is expected in the coming months, Finance Minister Arun Jaitley said on Friday.....
SC Questions Government Over Demonetised Currency
The Supreme Court on Tuesday asked the government why it did not exercise the legal option of letting people deposit the demonetised currency beyond December 31.....
Rahul Gandhi In Gujarat: Narendra Modi Helped Convert Black Money Into White
Congress Vice President Rahul Gandhi on Wednesday accused Prime Minister Narendra Modi of helping hoarders of black money to convert it into white money with his "unilateral and whimsical" demonetization.....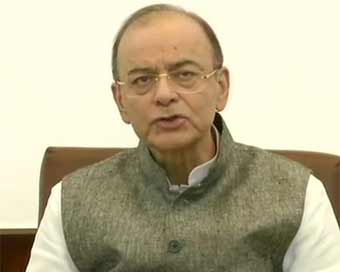 Confiscation Of Cash Was Not The Aim: Jaitley On Note Ban
As the country completed two years of demonetisation, Finance Minister Arun Jaitley on Thursday said the objective was not to get the cash deposited in banks but to move towards a more formal economy that he claimed is giving rich dividends.....
Jaitley To Support Modi's New Year Sops
Union Finance Minister Arun Jaitley on Sunday said that his ministry will do its best to support the steps announced by Prime Minister Narendra Modi on the New Year's eve. ....
'Where Are The Fake Notes? Even RBI Doesn't Know'
The Reserve Bank of India has admitted it has no confirmed data of the number or value of fake currencies detected since the demonetisation of Rs 500 and Rs 1,000 notes, a RTI query has revealed.....
Jaitley Introduces Note Ban Bill In Lok Sabha Amid TMC Opposition
Finance Minister Arun Jaitley on Friday introduced a bill on demonetisation in the Lok Sabha to formally make the banning of Rs 500 and Rs 1,000 notes a law.....
Note Ban Pulls Down Q3 GDP Growth In India To 7%
Reflecting a marginal impact of the November 8 demonetisation measure, India's GDP for the third quarter ended December, estimated at Rs 30.28 lakh crore, recorded a growth of 7 per cent, compared with 7.3 per cent in the second quarter, official data showed on Tuesday.....
Samay
Tweets by @sahara_samay