Tag: marriage
Pakistani Senate Passes Hindu Marriage Bill
Pakistani Hindu community will have a personal law for the first time as the Senate has passed 'The Hindu Marriage Bill 2017'. ....
Hindu Marriage Bill In Pakistan Now Law
President Mamnoon Hussain on Sunday gave his approval to the Hindu Marriage Bill, 2017 on the advice of Prime Minister Nawaz Sharif, turning it into law.....
Video: 25 Dead, 28 Hurt As Marriage Hall Wall Collapses In Rajasthan
At least 25 persons were killed and 28 others injured when a wall of a marriage hall collapsed in Bhartapur district late on Wednesday, police said.....
Video: Is Triple Talaq Fundamental To Islam, SC Asks
The Supreme Court on Thursday heard a batch of petitions challenging the constitutional validity of "triple talaq" and to know whether it was fundamental to Islam. ....
Google Doodle Celebrates Hindu Woman Who Fought Child Marriage
Google on Wednesday dedicated a special doodle to mark the 153rd birth anniversary of medico Rukhmabai Raut, who proved instrumental in getting the obnoxious practice of child marriages banned not only in colonial India but the entire British Empire.....
Supreme Court Restores Hadiya's Marriage
The Supreme Court on Thursday restored the marriage of Hadiya with Shafin Jahan, setting aside a Kerala High Court order annulling their wedding.....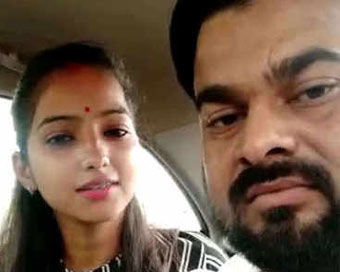 Bareilly Couple's Marriage Valid: Allahabad HC
The Allahabad High Court on Monday held that the marriage of Sakshi Misra, daughter of BJP MLA Rajesh Misra, and Ajitesh Kumar was 'valid'. ....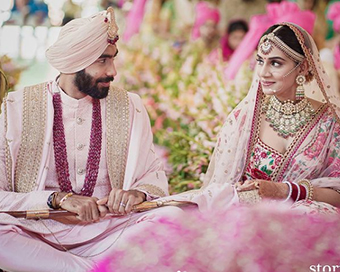 Jasprit Bumrah Ties Knot With Sanjana Ganesan
India pace bowler Jasprit Bumrah on Monday got married to TV sports presenter Sanjana Ganesan at a private ceremony in Goa, where a limited number of people were present. ....
RSS Chief Bhagwat Backs Inter-caste Marriages
Rashtriya Swayamsevak Sangh (RSS) chief Mohan Bhagwat has backed inter-caste marriages as one of the ways to eradicate social discrimination.....
BJP MP's Comments On Modi's Marriage Go Viral
A BJP MP's purported comments that Prime Minister Narendra Modi got "married but didn't set up his household" was released on Saturday and has gone viral over social media.....