Tag: invest
Chhota Rajan Sentenced To Seven Years In Jail
A CBI court here on Tuesday sentenced underworld don Rajendra Sadashiv Nikhalje alias Chhota Rajan to seven years in jail for holding a fake passport.....
Joint ED, CBI Team In London For Extradition Of Mallya
A joint team of the ED and CBI is in London to seek extradition of liquor baron Vijay Mallya, sources said on Tuesday. ....
Video: RBI To Get Power, Ordinance To Tackle Bad Loans Cleared
In an attempt recover Rs 6 lakh crore worth of non-performing assets (NPAs) in the banking system Union Cabinet, led by Prime Minister Narendra Modi approved a Ordinance on Wednesday.....
Bilkis Bano Case: Bombay HC Rejects CBI's Death Plea
The Bombay High Court on Thursday rejected a CBI plea seeking death sentence for at least three of the 11 convicts in the March 2002 Bilkis Bano gang-rape case in Gujarat.....
ED Arrested Hurriyat Leader Shabir Shah In Srinagar
The Enforcement Directorate arrested Kashmiri Hurriyat leader Shabir Shah in connection with over a decade-old money laundering case.....
Delhi Court Extends NIA Custody Of Four Kashmiri Separatists
A court in Delhi extended NIA custody by 10 days of four Kashmiri separatists arrested on charges of receiving funds from Pakistan to sponsor terror activities and stone-pelting in Kashmir. ....
HC Slams CBI For 'complete Lack Of Interest' In Tracing Najeeb Ahmed
The Delhi High Court on Monday slammed the Central Bureau of Investigation (CBI) for its "complete lack of interest" in tracing out JNU student Najeeb Ahmad, who went missing a year ago.....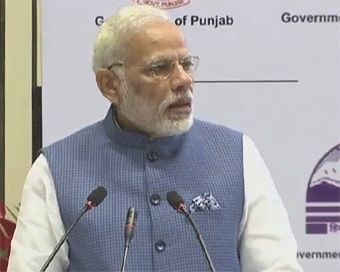 Doing Business In India Easier Now: Modi
Prime Minister Narendra Modi on Friday invited global investors to do business in India, which he said was "easier now" after his government repealed archaic laws and launched attractive fiscal incentives.....
Pakistani IS Supporter Deported From Italy
Italian authorities on Tuesday expelled a 23 year-old Pakistani supporter of the Islamic State group accused of spreading jihadist propaganda over the Internet.....
Second Defence Industrial Corridor To Come Up In UP: PM
Prime Minister Narendra Modi on Wednesday announced that the government would establish a defence industrial production corridor in Uttar Pradesh at an estimated cost of Rs 20,000 crore that would also generate 250,000 jobs.....