Tag: invest
ED Attaches Rs 11.57 Cr Worth Assets In Ambulances Case
The Enforcement Directorate on Monday said it has attached assets worth Rs 11.57 crore in connection with a 2015 case relating to the ambulance service scheme scam in Rajasthan.....
NIA Arrests Seven Hurriyat Separatists Leaders For Terror Funding
The National Investigation Agency (NIA) on Monday arrested seven Kashmiri separatists on charges of receiving funds from Pakistan to sponsor terror activities and stone-pelting protests in the Kashmir Valley....
Terror Funding: NIA To Produce Arrested Separatists In Court Today
The The National Investigation Agency (NIA) will on Tuesday produce all the seven separatists, arrested on Monday, in a Delhi court over terror funding case. ....
PMLA Case: Shabir Shah's Aide Arrested In Srinagar
The Enforcement Directorate on Sunday arrested Muhammad Aslam Wani, an aide to senior separatist leader Shabir Shah, on charges of funding terrorist activities in the Kashmir Valley.....
NIA Quizzes Geelani's Sons Over Terror Funding
The National Investigation Agency officials on Tuesday questioned Hurriyat chairman Syed Ali Shah Geelani's sons, Naeem and Naseem, as part of its probe into a money trail to expose how Pakistan sent cash to separatists for stoking unrest in the Kashmir Valley. ....
Rs 50 Cr In Banned Notes Seized In Gujarat On Poll Day
The Directorate of Revenue Intelligence (DRI) has recovered nearly Rs 50 crore in the banned currency of Rs 500 and Rs 1,000 denomination in Gujarat on election day, the Union Finance Ministry said on Sunday.....
Christians Attacked In MP Over Alleged Conversion, 30 Detained
Right-wing Hindu activists attacked Catholic carol singers in Madhya Pradesh's Satna district and also set a priest's car ablaze, accusing them of religious conversion. The police detained over 30 members of the Catholic choir group, including priests. ....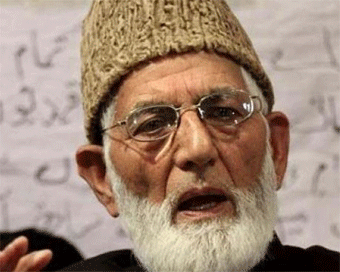 Geelani's Younger Son Ignores NIA Summons In Terror Funding Case
Hurriyat separatist leader Syed Ali Shah Geelani's younger son Naseem Geelani on Tuesday ignored the National Investigation Agency (NIA) summons in connection with its probe into alleged terror funding by Pakistan-based terrorist groups to stoke unrest in Kashmir valley.....
Three Soldiers Injured In Accident During Army Day Parade Rehearsal
Three army personnel were injured in a freak accident in a practice drill ahead of Army Day parade, when soldiers displaying slithering operations fell from a helicopter following a malfunction in the craft's boom, to which the ropes were attached, officials said. ....
Charges Filed Against Kashmiri Separatists For Waging War Against India
The National Investigation Agency (NIA) on Thursday filed charges under stringent anti-terror laws against seven jailed Kashmiri separatist leaders for allegedly conspiring with Pakistan-based terrorist leaders Hafiz Saeed and Syed Salahuddin to wage war against India to secede Jammu and Kashmir. ....