Tag: international
200 Dogs Rescued From South Korean Meat Farm
Two hundred canines have been rescued from a South Korean dog meat farm, an Non Government Organisation said on Thursday. ....
India Urgently Needs Uniform Civil Law: Taslima Nasrin
Bangladeshi author and freedom of expression advocate Taslima Nasrin, who has been living in exile since 1994 after facing the ire of fundamentalists, said on Monday India urgently needed a uniform civil law.....
India Takes Up Masood Azhar Issue With China Again
With the US moving the UN to put Pathankot attack mastermind and chief of the Pakistan-based terror outfit Jaish-e-Mohamed, Masood Azhar, on the list of international terrorists, India has again taken up the matter with China, a senior official said on Tuesday.....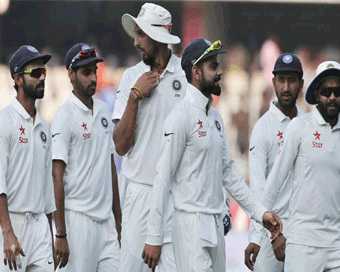 India Vs Bangladesh Test 2017, Day 3: BAN 322/6, Trail By 365 At Stumps
Bangladesh batsmen showed crossed 250 as Mushfiqur Rahim scored his 16th Test half-century. Ravindra Jadeja and Ravichandran Ashwin picked one wicket each in the second session.....
Note Ban To Drag Down India's GDP This Fiscal To 6.6%: IMF
India's GDP growth during the current fiscal ending March has been estimated by the International Monetary Fund to slow down to 6.6 per cent due to the temporary disruptions caused by the government's demonetisation drive, the multilateral lender said on Wednesday.....
BFI Joins Hands With SAI To Launch International Academy
With the aim to further advance the training programme for boxers, the Boxing Federation of India (BFI) on Wednesday signed a Memorandum of Understanding (MoU) with Sports Authority of India (SAI)under which an International Boxing Academy will be set up with eight regional centres.....
Sikh Shot In 3rd Attack On Indians In US In 10 Days
A Sikh man was injured when a masked gunman opened fire at him in front of his house in Washington after telling him "Go back to your own country."....
Jadeja Joins Ashwin As No. 1 Test Bowler, Kohli Slips To 3rd Among Batters
Indias Ravichandran Ashwin and Ravindra Jadeja on Wednesday became the first pair of spinners to be jointly top-ranked in the International Cricket Council rankings for Test bowlers while a poor outing in the first two Tests against Australia have pulled India skipper Virat Kohli down a rung to third among the batsmen.....
Australia Lose Early Wickets, Australia 89/3
Australia posted 109/3 at lunch on the opening day of their third cricket Test against India at the JSCA International Stadium here on Thursday.....
Cricket Score Ind Vs Aus 3rd Ranchi, Day 2 : Australia 451, India 120/1
India posted 20 for no loss in their first innings at tea on the second day of the third cricket Test against Australia at the JSCA International Stadium here on Friday.....
Samay
Tweets by @sahara_samay